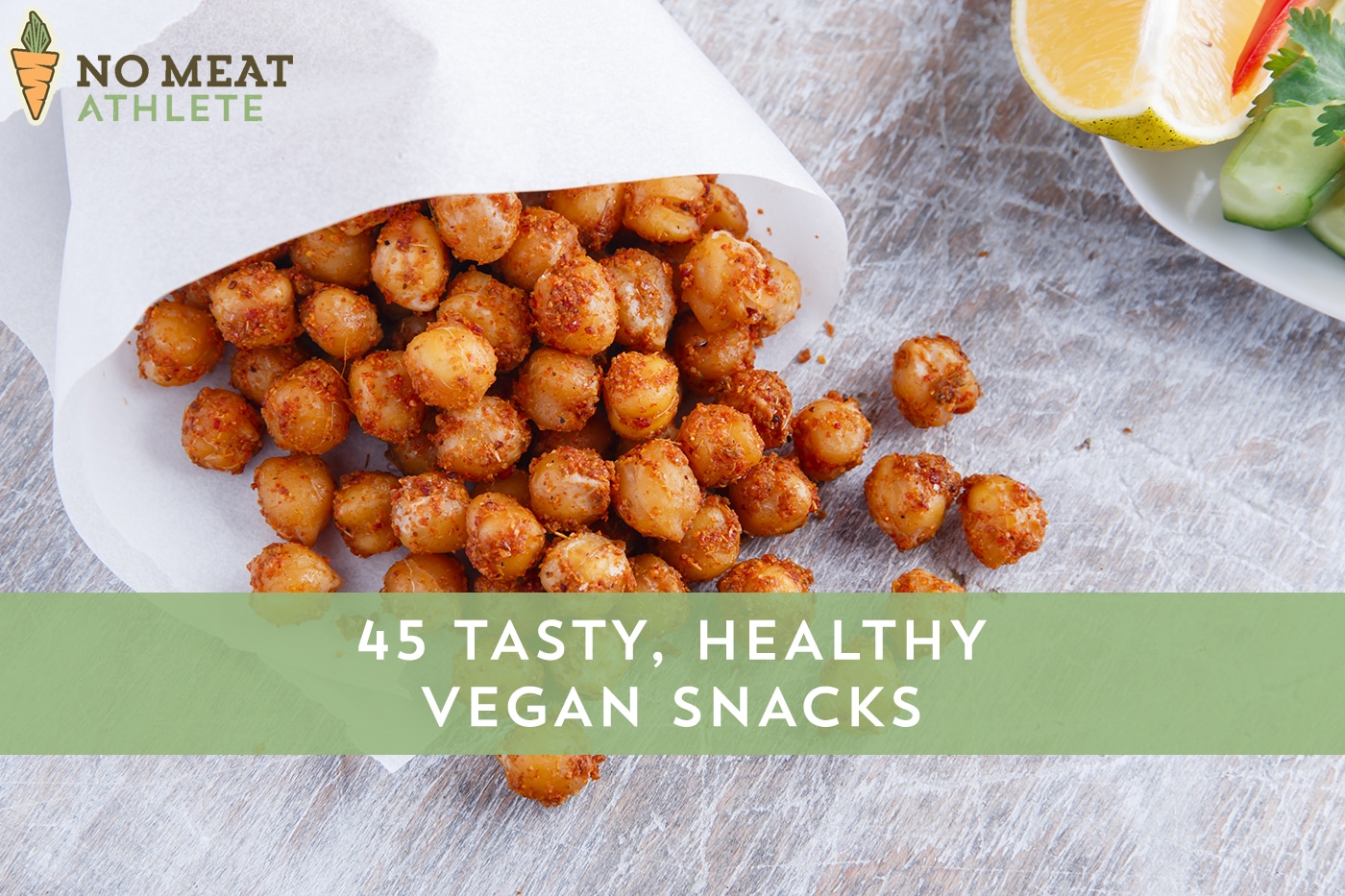 45 Tasty, Healthy Vegan Snacks
Written by susan-lacke-and-doug-hay
Note from Doug: A lot has changed at No Meat Athlete since Susan Lacke wrote the original version of this post. Our content has shifted to be 100% vegan, and the team (along with our appetites) has more than doubled.
So we decided it was time to give our list of healthy vegan snacks an update. We're tapping into the ideas from our growing team and nearly doubling the number of options.
If you're already familiar with the original list, you can always skip down to the new section here:
But first, part 1, written by Susan Lacke:
When I was a kid, I always swore that when I grew up my days would be filled with snack time and recess.
Twenty years later, though I still won't admit to being a grown-up, I will say I've managed to make my childhood dream come true: life as a triathlete provides me with plenty of time playing in the water, riding my bike, or running around.
And the best part? The active lifestyle is one which definitely favors lots of snacking.
Workouts lead to busy days, and snacks are a natural fit to fill the gaps between meals. If you're heading to the pool after work, for example, dinner afterwards can seem like a long way off if your stomach hasn't been filled since lunch. And as athletes, of course, we need more calories and nutrients than the average person does, so snacks allow us to fulfill those needs without taking too much time to prepare or eat.
But if you're vegetarian or vegan, you know how hard it can be to find a variety of snacks — questions about vegan snacking are posted at least weekly on the NMA Facebook page. So many lament on the uninspired options available for plant-based eaters … sure, there are days when we're cool with baby carrots and pretzels, but we can only take so much. When we come in from recess, dammit, we want some tasty treats!
24 Vegan Snacks to Help You Avoid the Vending Machine
Though the snacks served by machines may be convenient, the vegan options are often lacking in the nutrients you need. They're also not the best sources of energy required for your workout. Prep some of these ahead of time (Sunday afternoon is a great time to do this!), and keep them on hand for noshing:
1. Basic baked kale chips or almond crunch kale chips
4. Baba ganoush
5. Veggies with green herb & yogurt dip
7. Air-popped popcorn (make it extra special with homemade seasoning)
8. Guacamole
9. Homemade energy bars or granola bars
10. Homemade granola
12. Miniature soft pretzels with peanut butter or mustard
13. Smoothies, like a homemade super food concoction or my favorite, the mango-lime hot pepper smoothie from Thrive
14. Fresh fruit and vegetable juice blends
15. Raw frozen banana truffles
16. Cashew hemp bars (like homemade Larabars)
And if you don't have time to make your snacks yourself, here are a few ready-made snacks that get the NMA thumbs-up:
17. Food Should Taste Good chips (especially the sweet potato!)
18. Bearded Bros. raw energy bars
19. Mary's Gone Crackers gluten-free and vegan crackers
20. Health Warrior chia energy bars
21. Wayfar vegan cheese spreads and dips
22. CLIF Builder and Mojo bars (check ingredients, as not all are vegan)
23. Starbucks Hearty Blueberry Oatmeal (or a similar oatmeal option at your local coffee shop)
24. Unique sprouted-grain pretzel splits
Part 2: 21 More Vegan Snack Ideas
Written by Doug Hay.
It's no secret that I'm a snacker.
I joke about it on the podcast, and my wife pokes fun of my cart additions every time we shop for groceries. Snacks get me through my afternoon cravings, and calm my ravenous post-run stomach.
After exhausting the original 24 options above, it occurred to me that we have several new No Meat Athlete team members who also love to snack. Each with their own favorite go-to options.
So I reached out to Matt, Erin, Susan, and Esther, and together we've compiled 21 more healthy vegan snack ideas. Can you hear my stomach rejoicing?
25. No bake vegan date squares,
26. Or no bake energy bites (Both are great for pre-run snacks)
27. Apples with peanut butter (A perennial kid favorite)
28. Tortilla chips with homemade salsa (Susan makes her own every summer with veggies from the garden)
30. Healthy Carrot Cake Power Scuffins (Esther recommends subbing the oil for applesauce)
31. Buffalo hummus, used as a spread or dip for #33.
32. S'nuts
33. Fresh spring rolls with Thai peanut sauce
34. Homemade sweet potato chips
35. Veggies dipped in cashew cream sauce
37. Sardinian white bean spread (here's a recipe Matt likes, adapted from The Blue Zones Solution):
1 medium clove of garlic

½ teaspoon salt

2 cans (or 3 cups cooked) cannellini beans, drained and rinsed (almost any bean will work, so feel free to try others)

Juice of one medium lemon (about 3 tablespoons)

1-2 teaspoons dried herbs (any you like — usually an Italian blend plus fennel seeds)

2 tablespoons olive oil (If you don't mind oil, you can use use up to a quarter-cup for a richer spread. If you want to it to be totally oil-free, substitute liquid from the beans or water.)

Use a food processor or blender to first mince the garlic, then add all remaining ingredients except for oil (or your substitute liquid) and pulse to form a very rough paste. Then, with the motor running, stream in the oil or other liquid with the motor running. Do it quickly so that the spread retains a bit of texture.

Serve with veggies or pita wedges, or spread on pizza crust, bagels, or just about anything else where you want to add some heft and nutrition.
38. Grilled Sweet Potato Fries
39. Chocolate tart-cherty trail mix
40. Dehydrated fruit (A favorite of Matt and Erin's kids, just don't forget to brush your teeth soon after)
41. Peanut butter and banana "quesadilla"
Our new favorite store-bought options:
42. Pistachios (Go for the 3-pound bag from Costco to save a few bucks)
43. Pretzels dipped in a spicy mustard (Lusty Monk is our favorite Asheville brand)
44. LARABARs (Check ingredients, many are vegan or even raw, though some are not)
45. Rice cakes (Get them with brown rice, and for variety, try tamari-sesame or seaweed flavors)
Now, back to Susan …
Be ready in a pinch
Far be it from me to criticize people who would rather watch football on a Sunday afternoon than cook a bunch of snacks for the week. I'm right there on the couch with ya.
However, if you don't take the time to stock your pantry and fridge with healthy options, you'll be buying a questionable-looking bag of god-knows-what at the convenience store … or, worse, spending ten dollars for a banana at Starbucks. And keep a snack stash in your car and your office for emergencies. (Yes, hunger is always an emergency in my book. Isn't it in everyone's?)
About the Authors: Susan Lacke is the Resident Triathlete at No Meat Athlete, and the resident cupcake eater at her house. She also writes a weekly humor column, called Out There, for Competitor Online. Doug is an ultrarunner, coach, and the co-host of NMA Radio. Pick up his free eBook, Why Every Runner Should Be a Trail Runner (And How to Become One).
---
Vegan Supplements: Which Ones Do You Need?
Written by Matt Frazier
I'm here with a message that, without a doubt, isn't going to make me the most popular guy at the vegan potluck.
But it's one I believe is absolutely critical to the long term health of our movement, and that's why I'm committed to sharing it. Here goes…
Vegans need more than just B12.
Sure, Vitamin B12 might be the only supplement required by vegans in order to survive. But if you're anything like me, you're interested in much more than survival — you want to thrive.
So what else do vegans need?