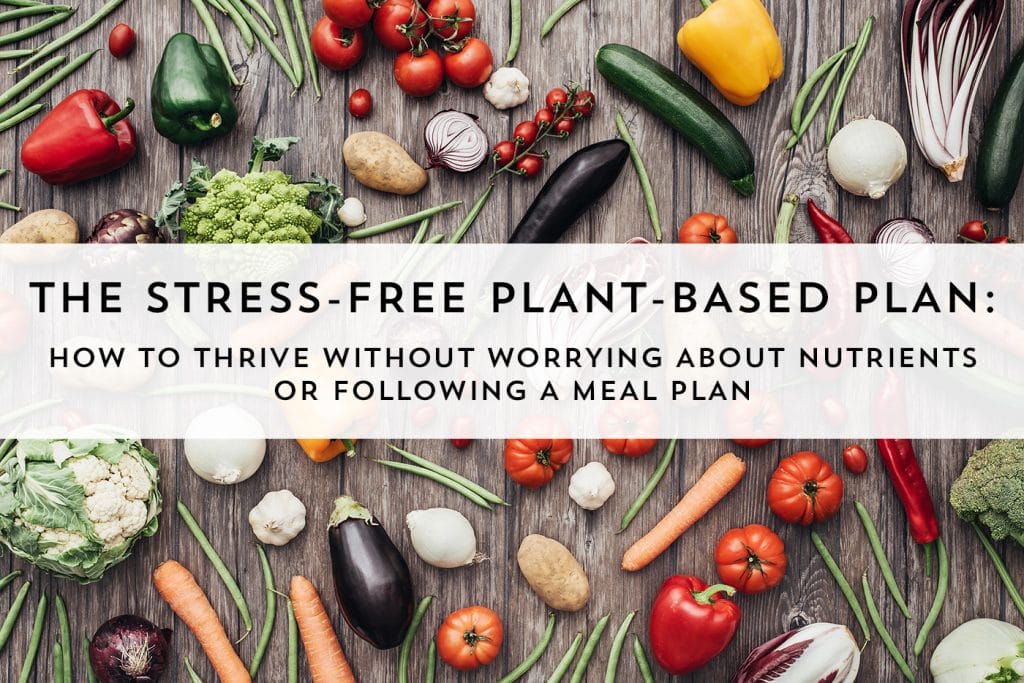 A Vegan Meal Plan that's as Simple as it is Healthy
Eating right doesn't have to be stressful. But if worrying about macronutrients (protein, carbs, and fat) and even micronutrients is unnecessary for most, and "just eat whole foods" feels a little lax and irresponsible, what is a vegan eater to do?
That's where this approach comes in. Rather than focusing on macro- or micronutrients, I focus on eating whole foods, but also on working on the best, most disease-preventing, health-protective foods each and every day.
This isn't a typical meal plan. Instead, it's a framework — the seven most important foods I try to work into my diet each day, and three broad types of meals that make it almost automatic to get them — and with that and a little flexibility, you don't need a meal plan. Don't get hung up on the seven foods.
If there's one you take issue with, or if you feel that I'm missing a food you believe is absolutely essential, that's fine: just adapt the meals to feature your must-have foods instead of mine.
Likewise, don't let anything about the recipes stress you out; look at them instead as blueprints, which you can adapt and adjust as necessary, swapping in certain ingredients and omitting others, and coming up with your own variations to add variety and keep things interesting.
This is the way my family and I eat at home, and do so with the confidence that we're eating about as healthy a plant-based diet as there is, and without the stress that so many people experience around the topic of healthy eating. I hope you find this approach as helpful as I do.
The Foods
1. Leafy Greens & Cruciferous Vegetables

The most micronutrient dense of all foods (highest ANDI scores). They're the healthiest foods you can eat, but so easy to not eat. Eat them often, raw and cooked!
2. Berries & Other Fruits

Just a quarter-cup of nuts each day can add two years to your life! Flaxseeds and walnuts, in particular, are high in Omega-3s; flaxseeds are also antiangiogenic.
3. Flaxseeds & Other Nuts/Seeds

A 2007 American Institute for Cancer Research study concluded that we should eat beans in every meal (really)! They're a food common to the world's longest-lived cultures too.
4. Onions & Garlic

Tea is incredibly high in antioxidants, and some beneficial phytochemicals like ECGC are exclusive to the tea bush. Not a caffeine fan? Herbal teas are great too.
5. Beans

The most vibrantly colored fruits because of their strong anti-inflammatory, anti-oxidant, and anti-cancer properties. Buy them organic if possible.
6. Turmeric

A half-cup of onions per day can produce 50-88% reductions in the risk for certain cancers. For maximum benefits, chop onions & garlic 15 minutes ahead of cooking them!
7. Green or White Tea

Thanks largely to its pigment, curcumin, turmeric protects against heart disease & cancer, and may even help to reverse their progress. Eat it fresh or ground!
Additional Foods

Some important foods did not make this list. Not because they're less important than the ones that did, but because they're so easily available by eating a whole food plant-based diet, that I don't need to focus on them here.
3 Meals that Make it Easy

Now that you know the seven foods worth eating every single day, let's talk about how to incorporate all those ingredients into your day. Because let's be honest, that's the hardest part. It's easy to learn what you should eat, but a lot more complicated to actually make it work. Which is why I came up with three adaptable meals that make it easy to include a bunch of these seven foods at once. Best of all, they're probably meals you already make, so all you've got to do is learn to use the 7 foods within each.
1. Smoothie or Oatmeal
A simple morning smoothie will knock out several of the foods before your day gets going. With a smoothie you can easily get:
Berries and Other Fruits
Flaxseeds and Other Nuts
Greens (optionally cruciferous)
Green/White Tea Leaves or Matcha Powder
Turmeric
Beans!? (People do it! White beans and silken tofu don't add much bean flavor.)
Real food plant-based protein powder (optional)
2. Giant Salad with Beans & Nut-based Dressing
For lunch, start with a big bowl of greens, throw on beans, mix in a bunch of other veggies, and top it off with a nut-based dressing like cashew ranch or tahini-garlic. In a salad you can include:
Greens
Cruciferous Vegetables
Onions (pickled, scallions, etc.)
Beans
Nuts & Seeds
Turmeric
Fruits
Whole Grains
3. A Grain, a Green, and a Bean
When you structure your dinner around a grain, a green, and a bean, the options are endless. Think burritos and tacos, soups, pastas, and curries, and try to always work in onions or garlic. Here are just a few of the foods you can get in this meal:
Whole grains
Greens
Beans
Onions & Garlic
Mushrooms
Turmeric
Cruciferous & Other Vegetables
Nuts & Seeds (topping or dressing)
The Perfect Day
Let's put it all together. Here's a peek at my ideal food day, which incorporates all seven of the foods at least once, along with a few servings of whole grains and, many days, mushrooms (both strong runners-up that one could argue should also be everyday foods).
Breakfast: Smoothie (plus water, coffee, or tea)
Morning Snack: Fruit (with nut butter, optionally), tea
Lunch: Giant Salad with Beans & Nut-Based Dressing (with optional whole grain side: rice, quinoa, whole wheat bread)
Afternoon Snack: Hummus with veggies or whole grains (crackers, bread), tea
Dinner: A Grain, a Green, & a Bean (started with a base of onion and garlic)
Once per day: Supplement with B12, D3, and DHA/EPA. Whole-food, plant-based diets, while very high in many micronutrients, typically don't provide enough B12, D3, or DHA/EPA. To get just these three nutrients in a single source, I use a product called Complement, which I helped to create. You can learn more about Complement here).
Sample Recipes for Each Meal
Breakfast
A simple morning smoothie or bowl of oatmeal can knock out a number of the seven daily foods all at once. Get creative and load them up with berries, greens, nuts and flaxseed, turmeric, and even things like whole green tea leaves and beans (silken tofu is my preferred bean in a smoothie).
These three recipes demonstrate just a few of the ways you can create a simple breakfast while hitting on several of the essential daily foods.
Berry-Banana Smoothie
Serving Size: Approximately 2, 20-oz.
Smoothies Smoothies are one of the most reliable ways to get berries into your diet. And since you can use frozen berries in a smoothie, you can save a little money, even when buying organic. My favorites are strawberries, blackberries, and blueberries, so mix or rotate through those or any other berries (or even other fruits) you like to build variety into your diet and keep your smoothie from getting boring.
Ingredients
2 medium, ripe bananas
2 Brazil nuts (or 1-2 tablespoons raw walnuts)
2 tablespoons flaxseeds
2.5 cups water
2.5 cups frozen berry
A big handful or two of baby spinach or other mild-tasting greens (optional)
Optional add-ins (see note below)
Instructions
Place ingredients in a blender, blend until smooth.
Notes
Optional: Add green tea leaves, a 1/2-inch slice fresh turmeric or ginger root, or silken tofu to boost the nutrition content of the smoothie and get more of the seven daily foods.
Colorful, Hearty Oatmeal
Serving Size: 2 bowls
Ingredients
1 cup old-fashioned rolled oats
2 cups of water
1/4 teaspoon cinnamon
1/2 cup frozen berries of your choosing
1 tablespoon ground flax
1 tablespoon chia seeds
3 tablespoons of pumpkin seeds
1/4 cup crushed almonds
Splash of maple syrup to taste (optional)
Instructions
Combine oats, water, and cinnamon in a saucepan over medium heat
Heat until simmering, then cook stirring often, until water is absorbed (about five minutes)
Stir in berries and flax until berries are heated through, and take off heat
Pour into bowl and top with chia seeds, pumpkin seeds, almonds, and maple syrup
Salads
For lunch, I love to throw together a giant salad, loaded with greens, beans, cruciferous veggies, seeds, and grains. I'll then top it off with an oil-free nut-based dressing for an added kick.
Below you'll find my basic plan for building a giant salad, plus three of my favorite homemade dressings. They're all easy, delicious, and can be made well ahead of time and used throughout the week.
How to Make a Giant Salad
I like to assemble a salad based on a few basic principles:
Start with a large handful or two of mild lettuce — romaine, green leaf, etc.
Add another large handful or two of a more bitter green — baby kale, arugula, mustard greens, dandelion greens, etc.
Top with at least one cruciferous vegetable (cabbage, broccoli, and radishes are the easiest, in my opinion), green onions, and any other vegetables you like (carrots, celery, tomatoes, etc.)
Finish with a cup of beans and nut-based dressing.
Serve over brown rice or with a whole-grain side to make it a more filling, satisfying meal.
Add a 1/4 inch slice of fresh turmeric and sprinkle with black pepper to increase bioavailability (you can eat your turmeric anytime throughout the day; I find it's easiest to remember with the salad).
Garlic-Tahini Dressing
Ingredients
2 cloves garlic, or more to taste
1⁄2 cup tahini
1⁄4 cup water, more to thin
1⁄4 cup nutritional yeast
2 tablespoons lemon juice
2 tablespoons reduced-sodium tamari
Instructions
Optional first step: I like to toss the whole garlic cloves (peeled, of course) around in a dry skillet over medium heat for 5-10 minutes, until they just barely start to color and blister. This retains the garlic flavor but tones down the intensity a little bit.
Add the garlic to a food processor blender and pulse a few times to mince. Then add the rest of the ingredients and combine until smooth. Add water until you reach a relatively thin consistency, but not so thin that it won't stick to stick to your salad leaves. (It'll thicken in the fridge, but you can always add more water before you use it.)
Notes
If the flavor is too strong, whisk in a little extra Tahini and/or water.
Sid's 'I Can't Believe It's Cashew' Ranch Dressing
Ingredients
1 1⁄4 cups cashews (you can soak them for a creamier dressing)
1 cup of filtered water for blending
1 1⁄2 tablespoons lemon juice
1 tablespoon apple cider vinegar
1⁄2 teaspoon garlic powder
1.5 teaspoons onion powder
1 teaspoon dried dill
1 teaspoon sea salt or to taste
1⁄2 teaspoon dried basil
1⁄4 teaspoon fresh ground black pepper or to taste
Instructions
Blend all ingredients (ideally in a high-speed blender) until creamy and smooth.
Make sure not to blend so long that the dressing gets hot. If it's too thick add more water. It'll thicken in the fridge; just add more water to make it pourable again.
Notes
This dressing thickens in the fridge, so add a little water as needed to thin before using.
To make Buffalo Cashew Ranch: stir hot sauce (Frank's Red Hot is highly recommended) into the finished dressing, to taste. A teaspoon of hot sauce per quarter cup of dressing is a good place to start, but this will vary depending on the brand of hot sauce you use.
Turmeric Ginger Almond Butter Dressing
Serving Size: 1 cup
Trader Joe's makes a delicious oil-free dressing that includes turmeric, ginger, garlic, and almond butter — making it perfect for topping a giant salad with beans to knock out many of the seven foods I try to eat each day. This is my reverse-engineered version, swapping whole dates for the cane sugar that TJ's uses in theirs.
Ingredients
3/4 cup water
1/4 cup almond butter
Juice of 1 lemon
2 tsp minced ginger (from about a thumb-sized piece)
2 fresh Medjool dates, pits removed
1 small clove garlic
1/2 teaspoon sea salt
1/2 teaspoon ground turmeric
1/8 teaspoon black pepper
Instructions
Combine all ingredients in a blender and blend until smooth. The dressing will become thicker in the refrigerator, so thin with water before serving each time.
Dinner
A grain, a green, and a bean. It's actually that simple, and if you're creative about it, the options are endless.
A GGB dinner could be pasta, rice and bean bowls, tacos, soups or stews, and so much more. And this is the perfect way to knock out any remaining foods from the list, like:
Whole grains
Greens
Beans
Onions & Garlic
Mushrooms
Turmeric
Cruciferous & Other Vegetables
Nuts & Seeds (topping or dressing)
Here are three of my go-to dinners that check off several of these foods.
Tempeh Tacos
Serving Size: 4 (3 tacos per serving)

This recipe was inspired by one I discovered in Rip Esseltyn's My Beef with Meat (now called Plant-Strong), after getting the chance to hang out with Rip in Austin, Texas at Whole Foods HQ. If you don't like soy, you can substitute any other bean here. Brown or green lentils would probably work best to replicate the texture of the tempeh.
Ingredients
12 corn tortillas
16 ounces tempeh, crumbled
A few splashes of low-sodium tamari or soy sauce
12 oz bottle BBQ sauce (look for oil-free — some varieties of Stubb's and Annie's are oil-free and delicious)
1 cup red or green cabbage, shredded
1 cup pineapple, chopped
1/2 bunch fresh cilantro, chopped
Optional:
Jalapeño or serrano pepper, seeded and ribbed, minced, for garnish
Pickled onions, for garnish
Instructions
Preheat a medium pan over medium-high heat.
Once it's warm, heat each corn tortilla for about a minute on one side, then flip and heat for 10 seconds or so on the other side. It's okay for the tortillas to get light brown spots, but don't let them burn.
After each tortilla is heated, move it to a plate covered by a barely-damp kitchen towel to keep warm. (You can do this step at the end instead and make the tacos "to order," but you'll save time if you can do it while you prepare the tempeh.)
Heat the crumbled tempeh in a pan over medium heat, stirring frequently to prevent sticking.
Once the pan is warm, sprinkled the tempeh with tamari or soy sauce (to taste, less than two tablespoons) and stir occasionally until tempeh is heated through.
Add the barbecue sauce to the pan and mix thoroughly until heated through.
To assemble, spoon a portion of the tempeh mixture onto a heated tortilla, then add red cabbage, pineapple, cilantro, and jalapeño and pickled onions (if using). Repeat for the remaining tortillas.
Hearty Chickpea Pasta Soup
Serving Size: 6
This grain, green, and bean recipe comes from my first book, No Meat Athlete, and in addition to the big three GGB, also incorporates onions and garlic and two other super-healthy foods: tomatoes and fresh herbs. And in my opinion, it's one of the tastiest recipes in the book!
Ingredients
2 tablespoons extra virgin olive oil, optional (you can use water instead)
1 small onion, chopped
2 celery ribs, diced
4 cloves garlic, minced
2 teaspoons fresh rosemary, finely chopped, divided
1 cup tomato sauce
6 cups vegetable stock
1 15-ounce can (or 1 ½ cups cooked) chickpeas, drained and rinsed
1 bunch kale (about 8 leaves), preferably lacinato (also called dinosaur kale), torn into
bite-size pieces, coarse stems removed
4 ounces whole wheat or alternative-grain linguine, broken into 1- to 2-inch lengths (or choose a bite-size pasta)
1 teaspoon sea salt, or to taste
½ teaspoon fresh ground black pepper
Instructions
Heat the oil or water in a large pot over medium heat. Add the onion, celery, garlic, and 1
teaspoon of the rosemary and cook until the vegetables are soft and translucent, about 5
minutes.
Add the tomato sauce, vegetable stock, and chickpeas, and bring to a boil. Add the kale
and after about 5 minutes, add the pasta and stir occasionally. (This assumes your pasta
will take 7 to 8 minutes to cook. If you're using pasta that takes 12 to 15 minutes, add the
pasta when you add the kale.) When the pasta is al dente, remove the soup from the heat
and season with salt and pepper.
Garnish with the remaining teaspoon of fresh rosemary.
Pugliese Greens and Beans
This one is inspired by the food of Puglia, the heel of Italy's boot where chickpeas are king. But any bean works here; I like white ones for their color against the greens. The vegan meat substitute is entirely optional but is a good example of allowing an occasional indulgence to keep food interesting. If you choose not to use it, you might experiment with a small amount of miso, stirred in at the end of the simmering time, to add umami richness and saltiness.
Ingredients
2 14.5-ounce cans reduced-sodium cannellini beans or chickpeas (don't drain and rinse, in this case)
2 tablespoons extra virgin olive oil, optional (you can use water instead)
6 cloves garlic, rough-chopped
4 ounces vegan meat substitute, diced small, optional (check the ingredients and avoid protein isolates)
1 large bunch (about 1 pound) turnip greens, kale, or other bitter greens
Salt and pepper, to taste
Whole grain or sourdough bread, for serving (feel free to instead serve over another grain — barley, bulgur wheat, brown rice, etc.)
Instructions
In a dry skillet or one just lightly drizzled with a half teaspoon of oil (don't use water here), brown the vegan meat substitute over medium heat for just a few minutes. Remove from pan and set aside.
Heat the rest of the oil in the skillet over medium heat and add the garlic and crushed red pepper. After two minutes, add the beans and their liquid and increase the heat to medium-high. Once the liquid is simmering, add the greens and continue to simmer until most of the liquid has evaporated and the greens are tender, 5 to 10 minutes depending on the type of greens you're using.
Add the vegan meat substitute, season with salt and pepper, and serve alongside rustic bread or over another grain.
Condiments
I'm a big fan of condiments. Not condiments like ketchup, so much, but simple add-ons that enhance the meal with new flavors and textures.
Below you'll find recipes for two of my favorite, which can be added to salads, pastas, tacos, and more.
Vegan 'Parmesan' Sprinkle
Ever since I came across a recipe like this one in Minimalist Baker's Everyday Cooking (a really great book, by the way), our fridge has never been without this cheesy sprinkle. It keeps for a few weeks in the fridge, but never gets the chance to last that long in our house! We use it on salads, like the cheese on pizza, and on top of just about any other Italian dish. This brilliantly simple recipe is close to the one in the book, but with a little bit less salt. Add more if you wish. Inspiration: Minimalist Baker's Everyday Cooking, by Dana Shultz
Ingredients
1 cup raw cashews
¼ cup nutritional yeast
¾ teaspoon salt, more to taste
1 teaspoon garlic powder
Instructions
Combine all ingredients in food processor and process until you're left with a coarse powder (just slightly coarser than the stuff in the green can we all used to use). A high-speed blender works too, but make sure you keep scraping the sides so that it doesn't turn into nut butter!
"Pickled" Onions
I know, this isn't really pickling, but the flavor is wonderful and the color vibrant. We keep a near-constant supply of this beautiful, delicious garnish, because (a) it's simple to make and lasts for weeks in the fridge and (b) our kids love it (they call them "red worms" and put them on just about everything).
Inspiration: Vegan Eats World and Viva Vegan! by Terry Hope Romero.
Ingredients
2 large red onions, thinly sliced into half-moons
¼ cup fresh lime juice or lemon juice
1 tablespoon apple cider vinegar
2 teaspoons salt
Generous pinch of sugar
Instructions
Bring a large pot of water to a boil.
Option 1: If you want to preserve a lot of the onion "bite" flavor, set the onions in a strainer in the sink and pour the boiling water over the onions. Wait a few seconds and then rinse under cold water to stop the cooking process, and proceed with remaining steps.
Option 2: For a milder, more kid-friendly flavor, drop the onions into the pot of boiling water and let them simmer for 30 seconds or so, then drain and rinse under cold water before proceeding with remaining steps.
Place the slightly-cooked onions in a large bowl or another dish with a lid, then add remaining ingredients.
Stir to combine. Let sit in the refrigerator for at least half an hour before using.
Add to Latin dishes, Indian dishes, salads, wraps, and anything else that needs a little extra zing. Store in a covered container in the refrigerator; these keep for several weeks so you can make them once and use to garnish lots of dishes.