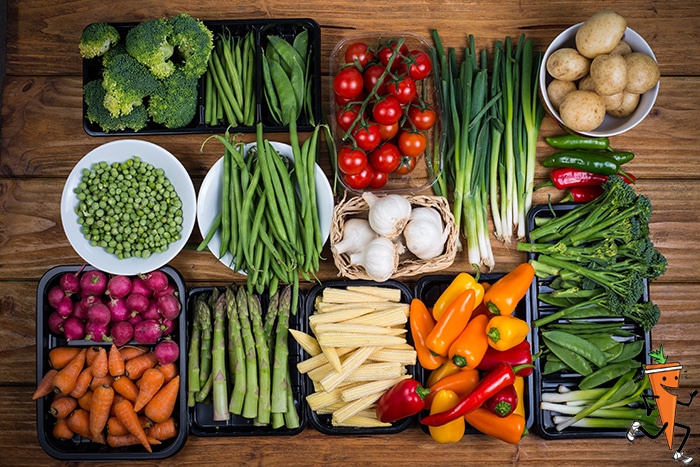 The Plant-Based Diet: A Step-by-Step Guide to Making It Last
Post written by Luke Jones from Health Room.
I've been eating a plant-based diet for a few years now, and that change was the catalyst for a whole load of other positive changes in my life which have made me a healthier, happier human being.
Eating this way is now second nature, but it didn't come easy at first. More than once, I nearly gave in to temptations and went back to my old habits.
I'm not alone in this regard: going vegetarian or going vegan (and making it last) is easier said than done.
If you don't currently eat a plant-based diet, it's likely you've tried in the past, only to fall short and end up back where you started, feeling like you'll never have the willpower to bring about lasting changes.
In that case, I'll let you in on a not-so-secret secret. Here it is:
Changing your diet and maintaining it isn't about willpower. Instead, it's about taking the right approach.
I don't have all the answers, but I have been through the diet struggle and come out the other side a fully fledged herbivore. And I learned a few things along the way.
Maybe you're completely new to plant-based eating. Or maybe you're a veteran vegan athlete. Regardless of where you are in your nutrition journey, today I'd like to share with you some tools that will help make your plant-based diet lasting and sustainable.
Each tip is broken down into action steps that you can apply to your life right now. Don't overload yourself by taking them on all at once, but over time, the more steps you take, the more likely it is you'll succeed.
Tip: If you're struggling to go plant-based, check out our 80/20 Plants program, which gives you direct access to a health coach and vegan nutritionist directly through the app.
Let's get to it.
6 Steps for Making Your Plant-Based Diet Stick
Step 1. Why do you want to eat a plant-based diet?
There are an endless number of nutrition doctrines out there, so why is a plant-based diet the best choice for you right now?
It's a big lifestyle change, and inevitably your old habits will to try to creep back in from time to time. If the going gets tough, it's that big reason "why" that will keep you from caving in.
Your action steps:
-Determine your personal reasons "why."
Some of the most popular reasons for eating a plant-based diet include:
Being healthier
Losing weight (since a plant-based diet includes so many foods that are low in calorie density)
Concern for animals
Reducing your environmental impact
All are great, so figure out which one really excites you. Don't do this just because Beyoncé is doing it, or because your spouse said so.
Your motives will likely evolve over time. I began eating this way for entirely selfish reasons, but as time has passed, the bigger picture has become more important to me.
-Write it down.
Write down your reason "why" (really do it!) and put it somewhere you'll see it every day. You could put a note on your fridge, or a daily alert on your phone. Whatever works for you. Anytime you feel like you might stray from the plants, take a look at your motivation, and get back on track.
Step 2. Think big, but start small.
It's great to have the big end goal of eating a fully plant-based diet to get excited about, but don't feel pressured to get there right away. Instead, embrace the journey, and respect that it's gonna take some work.
While some people can make the switch straight off, that's not most of us. By all means give it a try, but if it doesn't work, shift to Plan B and try the smaller steps.
As Matt Frazier says: the more gradual the process, the more likely you are to succeed in the long term. A simple smoothie is a great start.
Your action steps:
-Work backwards from your end goal.
There are a load of different ways to tackle the transition to a plant-based diet. A tried and tested route is to gradually eliminate certain foods, while upping your intake of plants.
You could start by cutting out four-legged animals, then two-legged, followed by seafood, dairy and processed foods. Establish these milestones, but don't be too concerned with a time frame.
-Get specific.
Once you have your ultimate goal in mind and a set of intermediate points to get you there, break the milestones down into specific action steps, like in the diagram below.
If you're a complete beginner, you could start by having four-legged animals just once a week, instead of twice. This might seem trivial, but it's better to err on the side of caution, at least early on. Failing too soon can really knock your self confidence.
If you do relapse, embrace it as a lesson, and use it as an opportunity to make your goal a little easier. Then get back on track.
-Build slowly.
After a month or so, if you're comfortable eating four-legged animals only once a week, bring it down to twice monthly, followed by monthly, and eventually cut it out altogether. Then repeat the same process with the other foods.
Patience is key. It's easy to get carried away and attempt to make several big changes once you've had success with a few small ones. It may take a while to reach your end goal, but moving slowly gives your taste buds a chance to adjust, lessening the shock of any one change.
Step 3. Create a healthy food environment.
Obstacles will inevitably pop up on your plant-based journey. To increase your chances of beating them, it helps to be ready to respond, rather than react. This involves preparing your environment, so you're as well equipped as you can be.
Your action steps:
-Know your safe havens.
If you're hungry while out and about, it helps to know where the nearest plant-friendly restaurants and shops are. Scope out your local area using Happy Cow, and form a list of go-to places.
-Use "Out of sight, out of mind."
Remove any unwanted foods from your cupboards, and replace them with plant-based alternatives. You could also make a rule to stay away from certain aisles in the supermarket, or areas of the mall where the fast food joints are.
-Plan ahead.
Scheduling your meals and snacks for the week can help reduce waste and save money. Check out a typical plant based diet plan, and stock up on groceries in advance. For bonus points, you could batch cook meals on the weekend and freeze your leftovers. That way you've always got a backup, which should deter you from reaching for the takeout menu after a long day.
Step 4. Eat simply, but aim for variety.
When you first start out with a plant-based diet, it's easy to get caught up in the minutia. I remember spending ages searching for expensive ingredients, and obsessing over my micronutrient intake.
While these things can sometimes be fun, often they're a form of procrastination, detracting us from our original aim.
If your diet seems too complicated (or too boring), it's unlikely you'll stick to it long term, so it's important to strike the balance between simplicity and experimentation.
Your action steps:
-Think whole foods.
If you eat a wide range of colorful, whole, plant foods, you should meet all your nutritional needs. Just keep it simple with fruits, veggies, whole grains, legumes, nuts and seeds. It needn't be more complicated if you don't want it to be.
If you do make the plunge to going fully vegan, it's important to take vitamin B12 plus a couple of other hard-to-find nutrients so you don't become deficient.
-Adapt your favorites.
It can be daunting, thinking you have to get rid of all your favorite meals and start from scratch. Thankfully with a little tweaking, most traditional recipes can be adapted to plant-based alternatives.
Beans and lentils make great meat substitutes, and there are loads of plant-based milk options available these days.
Some people get caught up on using fake meats and cheeses. While they can be a good transition foods, they should probably be phased out eventually. Essentially, you're just replacing animal products with processed foods, which isn't really going to benefit you long term.
-Experiment.
If things start getting stale, try a new recipe once a week. It doesn't have to be overly fancy, but some people find that mixing it up helps to keep things interesting.
There are some great tasting vegan recipes here at No Meat Athlete, a vegan meal plan, and plenty of awesome cookbooks around too.
The more you practice preparing your own meals, the more you'll begin to enjoy the process. Before you know it, you'll have a long list of favorite plant-based meals and snacks to pick from.
Step 5. Form your plant-powered crew.
On my first attempt at eating a plant-based diet, I tried to do it solo, and it wasn't all that fun. I had no idea what I was doing, and I felt pretty alienated.
Second time around, I built a support network and involved others on my journey, and things became way easier.
Your action steps:
-Connect with like-minded people.
Surround yourself with people who will support you. If you're lucky, you might be able to find groups in your local area to meet up with. At the very least, these communities make you feel like you're not alone.
The internet is also great for connecting with other plant-based folks. Join your local No Meat Athlete running group, or get involved with the Veggie Boards Forum or the Plant-Based Diet Subreddit, where you can exchange ideas and information with people in the know.
-Talk to your loved ones.
Discuss your new diet with your family and friends, and share with them your reasons 'why'. Make it clear that they don't have to change with you, but that you would really appreciate their support.
If you regularly cook with omnivorous friends or family, animal products can easily be added at the end of most plant-based recipes. From my experience, a compromise can usually be met without your having to abandon your morals.
-Ask for help.
For an added incentive, ask someone close to hold you accountable over your next few steps. If you achieve your weekly goal, celebrate your small victories with external rewards, like watching that new movie you haven't made time for yet.
Some strange people respond better to the stick than the carrot, and instead like to set consequences for failure. If that works for you, go for it.
Step 6. Remember that food isn't everything.
Whatever your reason for adopting a plant-based diet, changing the way you eat probably isn't the only thing that's going to influence it. So many other habits can impact your health, your fitness, or the size of your carbon footprint.
It's easy to obsess over diet as the one key to success, but it doesn't count for much if you don't consider the other pieces of the puzzle.
Your action steps:
-Introduce supporting habits.
Some habits go hand in hand with eating a plant-based diet. Take exercise as an example. If you begin to work out regularly, you may start to crave healthy food to refuel your body.
Meditation is another good one. You might find that practicing regularly makes you more mindful of your food choices, and spurs you on to take your diet further.
What's more, if you're someone who easily gets sucked into the complexity of nutrition, supporting habits can sometimes help take the focus off the food a little, which might stop you from over thinking things and burning out.
Just remember to start slow, and not overload yourself with a bunch of difficult changes straight off.
-Use service.
How can you use your experience to help others? Maybe it means being a good example to your peers and family. Perhaps it's creating a blog, or starting a podcast.
Do what you can to pass the message on, and keep the movement going. If you're fully committed to a cause that's bigger than you, you're much less likely to back out.
Time to take action!
I've tried my best to make this guide as applicable to real life as possible … now it's up to you to make the change happen.
If you really want that plant based diet of yours to last, take the tools shared above and apply them to your life. Because ideas alone don't bring about lasting changes –putting them into practice is what counts.
Regardless of how many times you've failed in the past, there's always a new opportunity to start over and try again from a slightly different angle. Often it's just one small adjustment that means the difference between failing and succeeding. Hopefully you've found that small thing somewhere in this post.
So what are you waiting for?
It's time to gain control over your eating habits, and take that first step towards becoming a plant-powered hero.
Where do you most struggle with regards to making your plant-based diet last? Share with us in the comments below and we'll try to help you out.
About the Author: Luke Jones is a plant-based blogger at Health Room, where he explores and share ideas in nutrition, movement, mindfulness and sustainability. For more articles and a free copy of his healthy habits starter guide, check out his site at herohealthroom.com