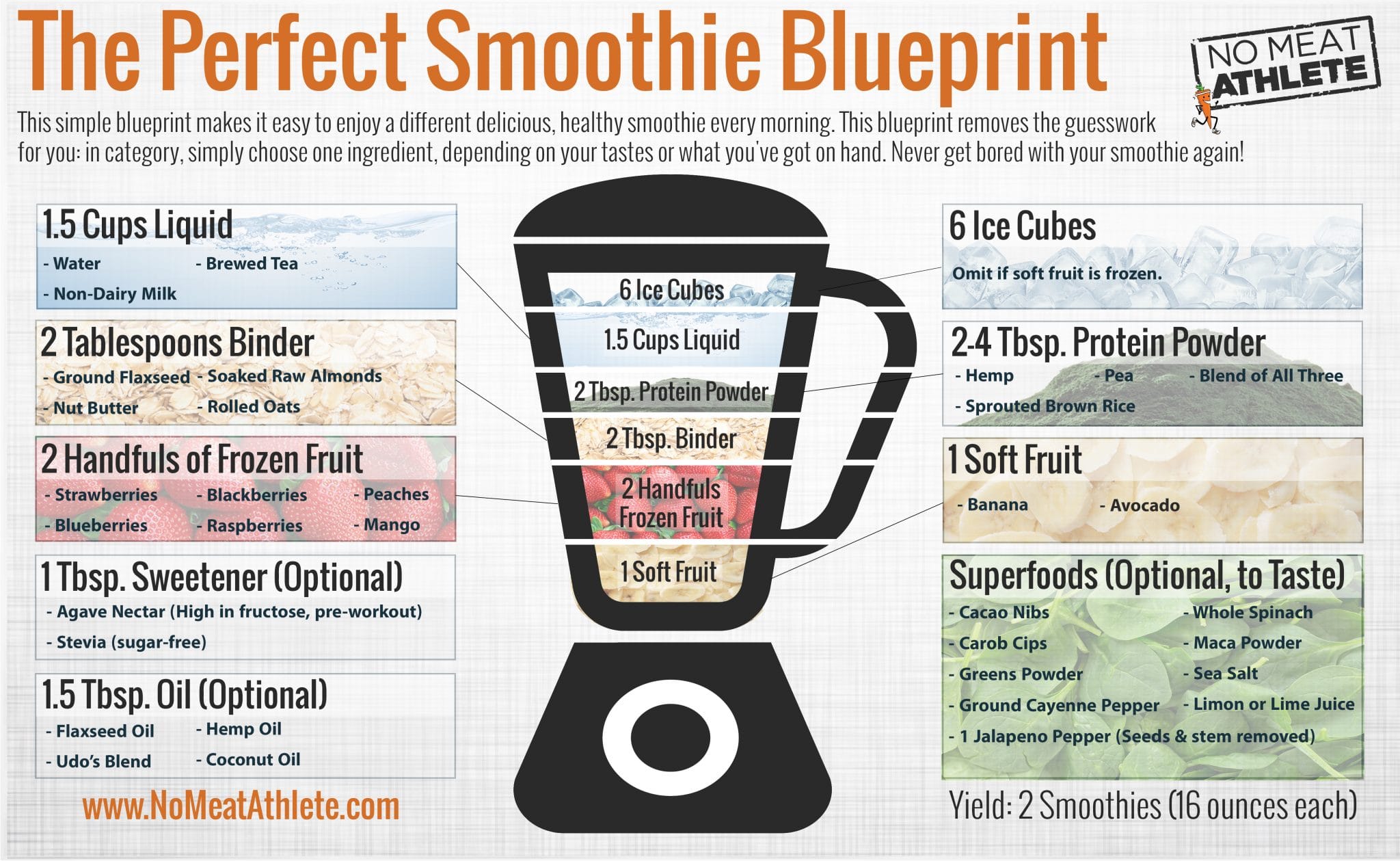 The Perfect Smoothie Formula
The way I see it, you only need to eat healthy twice during the day. While you'll certainly eat more than twice a day, just two healthy meals — a smoothie and a salad — make it pretty hard to screw up the rest of them.
The first time is in the morning, when a smoothie made from fruits and nuts (and even vegetables) will not only set the tone for the entire day, but act as a vehicle for other superfoods or vegan supplements you want to work into your diet.
(The second is in the afternoon, when a big salad loaded with greens, other raw vegetables, and nuts will fill you up and give you more veggies than most people eat all day.)
That's it. Just two healthy meals.
Even if you ate whatever you wanted the rest of the day, I'd be willing to bet you wouldn't get fat, as long as you made sure to drink a smoothie and eat a big salad every single day. That's why they're part of every meal plan I create.
Sure, if you were to eat at McDonald's for lunch and Outback for dinner the rest of the time, you could probably succeed at packing on a few pounds. But here's the thing.
The smoothie and salad act as "anchors" that keep you on track, to remind you just how great it feels to put real, fresh fruits and vegetables in your body — and to provide a vehicle for vegan protein or any other supplements you might take. After you start the day with a smoothie, McDonald's for lunch doesn't seem so good anymore. And when it's time to start thinking about dinner, the salad does the same.
In this way, those two healthy meals become three or four — which doesn't leave much time for junk.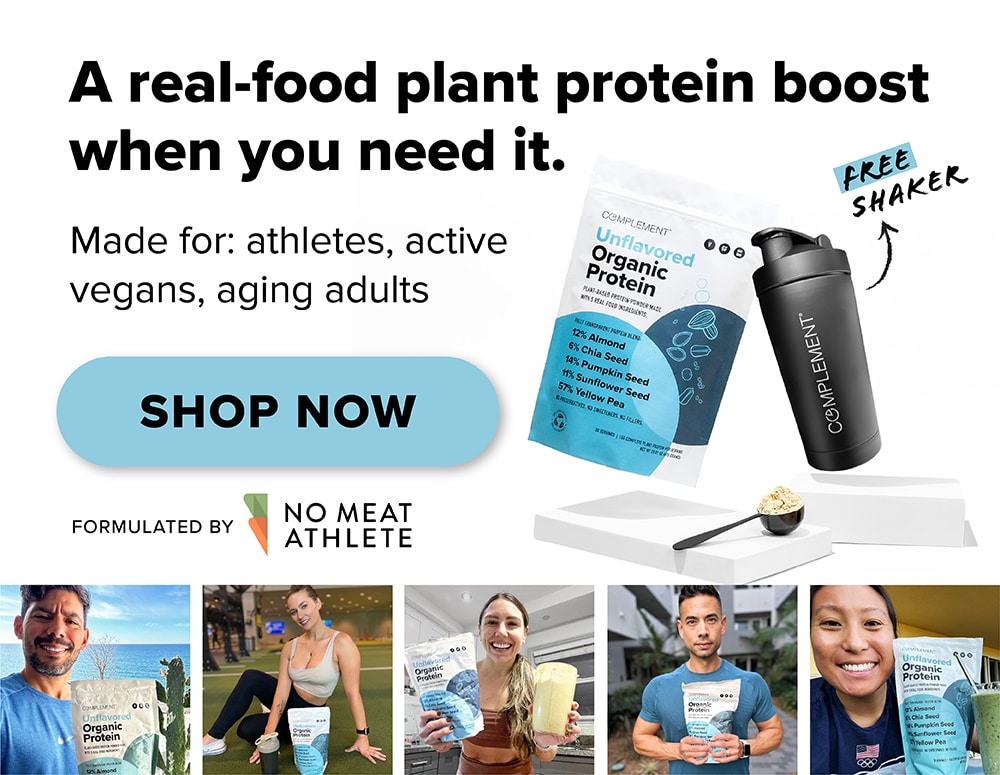 Why people suck at making smoothies
Most people are alright when it comes to the salad. But there's something about the alchemy of throwing a few fruits, ice, liquid, and whatever else into a blender and ending up with a perfectly smooth and delicious drink that causes lots of people to struggle.
Since nearly everyone has a blender (I use a Blendtec myself), I suspect that the reason most people don't make smoothies consistently is that it's overwhelming. There are too many possible ingredients, and too many variables to tweak to get the proportions just right. And if someone should stumble upon a good recipe, they end up making it so often that they get sick of it and never drink it again.
We need a smoothie 'formula'
Over the past few years, I've had a smoothie almost every single day. I've constantly tweaked it, experimented with new ingredients, and kept track of what worked and what didn't. (You can find a number of the set vegan smoothie recipes here.)
What follows is my version of the smoothie genome project. It's a formula you can follow to create nearly endless variations. And the best part is that the uncertainty has been taken out of it for you. You'll need to experiment with different flavor combinations, of course, but the guesswork about proportions has largely been removed.
The recipe below specifies general amounts and types of ingredients (like "2 tablespoons binder") and then below, you are given a menu of several recommended ingredients of each type from which to choose to make your smoothie.
The Perfect Smoothie Formula
(makes 2 smoothies)
1 soft fruit
2 small handfuls frozen or fresh fruit
2-4 tablespoons vegan protein powder
2 tablespoons binder (see suggestions below)
1.5 tablespoons oil (completely optional!)
1.5 cups liquid
1 tablespoon sweetener (optional, less or more as needed)
optional superfoods, greens, and other ingredients
6 ice cubes (omit if soft fruit is frozen)
Select one or more ingredients of each type below and add to blender in specified proportions. Blend until smooth.
Recommended Soft Fruits
(If you have a high-speed blender that can puree, say, a whole apple or carrot without leaving any chunks behind, then the puree of almost any fruit or vegetable can act as your soft fruit.)
Recommended Frozen or Fresh Fruits
Strawberries (you can leave the greens on if you have a powerful blender)
Blueberries
Blackberries
Raspberries
Peaches
Mango
Pineapple
Recommended Protein Powders
Complement Protein (developed by No Meat Athlete — combines all almond, chia seed, pumpkin seed, watermelon seed, and pea for a complete amino acid profile)
(Soy and whey are higher-protein, generally cheaper options, but for a variety of reasons I don't recommend either for long-term use.)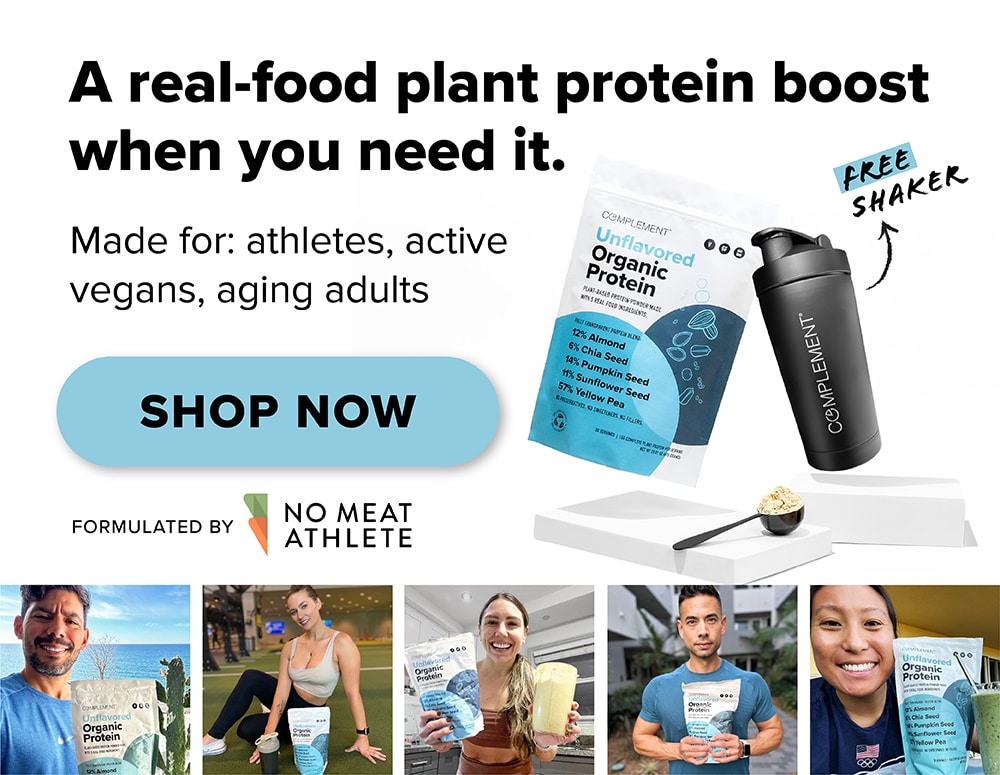 Recommended Binders
Ground flaxseed
Almond butter or any nut butter
Soaked raw almonds (soak for several hours and rinse before using)
Rolled oats, whole or ground
Udo's Wholesome Fast Food
Recommended Oils
Flaxseed oil
Udo's Blend or other EFA blend
Hemp oil
Coconut oil
Almond, macadamia, or other nut oil
Recommended Liquids (unsweetened)
Water (my favorite)
Almond milk or other nut milk
Hemp milk
Brewed tea
Recommended Sweeteners
Honey (not technically vegan)
Agave nectar (high in fructose, so choose this only before workouts)
Stevia (sugar-free natural sweetener, the amount needed will vary by brand)
Optional Superfoods, Greens and Other Ingredients
Cacao nibs (1-2 tablespoons)
Carob chips (1-2 tablespoons)
Ground organic cinnamon (1-2 teaspoons)
Chia seeds, whole or ground (1-2 tablespoons)
Greens powder (1-2 teaspoons)
Whole spinach leaves (1-2 handfuls)
Maca powder (1-2 teaspoons)
Jalapeno pepper, seeds and stem removed (one small pepper)
Ground cayenne pepper (small pinch)
Sea salt (pinch)
Lemon or lime juice (1 tablespoon)
There's plenty here to get you started. But you certainly don't have to stay within these guidelines if you determine that you want more or less of a certain ingredient, or more than one ingredient from each category. (For example, almond butter and ground flaxseed are both in the "binder" category, but I sometimes include both in my smoothie.)
Also, note that which ingredients you use from one category often dictate how much you need from another. For example, if you're using avocado instead of banana as your soft fruit, you'll need more sweetener than you would with the banana, and you'll probably want to go light on other fatty ingredients, since avocado provides plenty of good fats.
So be creative, and don't worry if at first you like more of the sweet ingredients and not so much of the healthier ones. Over time as you work towards a plant-based diet and eat less and less processed and sugary foods, your tastes will change and you'll actually crave the healthy stuff.
PS – If you like the formula idea, check out the Ultimate Energy Bar Formula and the World's Most Versatile Veggie Burger Recipe.