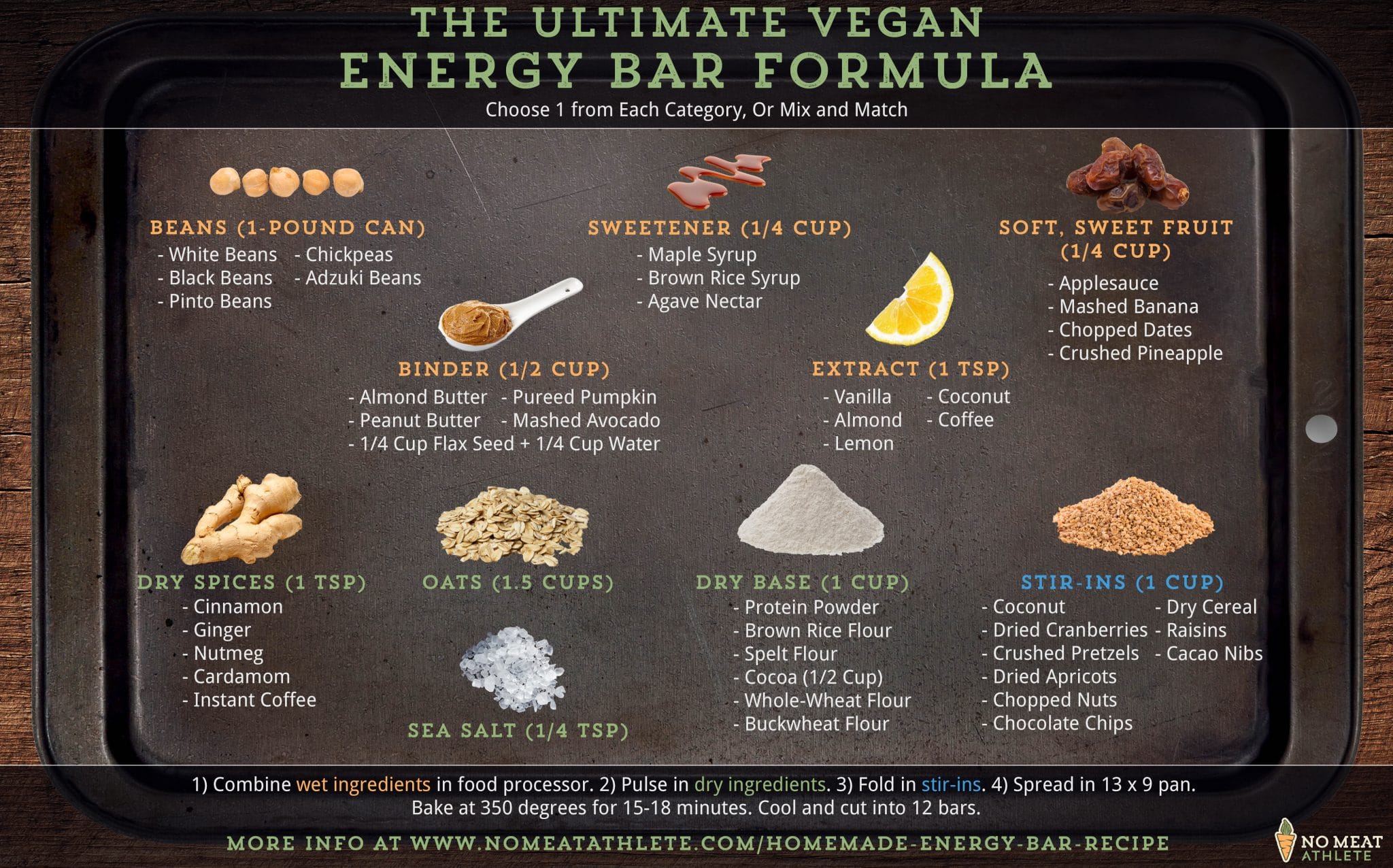 The Ultimate Energy Bar Formula
Recipes are great. But formulas are where it's at.
Recipes allow even brand new cooks to produce something that's really good, or at least something that doesn't entirely suck. You can take a recipe that an expert chef created and reproduce in your home exactly the same dish, without the years of training. Score.
The problem with recipes, though, is that it's easy to rely on them too much, especially if you're like me and you're scared to mess with them. Eventually, you find yourself stuck in a box, where you eat the same thing over and over and never venture beyond the safe comfort of your trusty recipes.
This was my problem with smoothies for a long time: I'd find a recipe for one I liked, make it every day for a month, and then get so sick of it that one day I'd simply revolt.
Skip the smoothie. Go to Starbucks. Coffee and a bagel. Not a good start to the day.
Eventually, I stepped back from the "month of smoothies, month of Starbucks" routine. I figured out what the smoothies I liked all had in common, and came up with the Perfect Smoothie Formula. This way I could switch in different ingredients and never run out of smoothie ideas or get sick of the same one over and over.
First smoothies, now energy bars
My wife and I had the same problem with my sister Christine's homemade energy bar recipe, part of the Sweet Tooth Friday series she used to write for No Meat Athlete before she got fired law school intervened. We used to make these energy bars all the time (and in bulk for bringing on road trips), and they've earned themselves more than a few fans among NMA readers too.
And if you remember Christine's Sweet Tooth Friday posts, you know that she's got a talent for sneaking beans and other seemingly-gross stuff into bars and desserts to make them really healthy and still taste good (remember black bean brownies?). Her energy bars are no different — delicious and wholesome, and even packing a decent amount of protein.
So it's a great recipe. But unfortunately, you can only eat the same energy bar so many times before it makes you want to ralph.
And so I asked Christine to take a break from law school to help me out. (I was thinking a whole semester, but she knocked it out in a day.)
This energy bar formula is what she created, and it's fantastic. In the basic recipe below, Christine lists the amounts of each type of ingredient. Then underneath that, she suggests several ingredients of each type, which you can mix and match to come up with your own energy bars (and feel free to try others). Finally, she gives a few examples of bars she's made, to give you a few ideas.
The Ultimate Energy Bar Formula
1-pound can of beans, drained and rinsed (or 1.5 cups cooked beans)
½ cup binder
¼ cup sweetener
¼ cup soft sweet fruit
1 teaspoon of extract (optional)
1 teaspoon of dry spice (optional)
¼ teaspoon sea salt
1.5 cups of oats (you can toast them if you want but I can't tell the difference)
1 cup dry base ingredient
1 cup stir-ins

In a food processor, combine beans, binder, sweetener, soft fruit, extract, spice, and salt until smooth. Add the oats and dry base ingredients and pulse just to combine. Add stir-ins and pulse again just to combine. If the consistency seems spreadable, you're good. If it's too dry, add 1/4 cup of water; if it's too runny, add an additional 1/4 cup of the dry base ingredient.

Grease 13×9 pan with baking spray or rub with 1 tablespoon oil, then spread mixture into pan.

Bake at 350 degrees for 15-18 minutes.

Note: You'll have the most success if you use unsalted, unsweetened versions of the ingredients, and control the sweetness and saltiness through the sweetener and added salt.
Recommended beans
White beans
Black beans
Pinto beans
Chickpeas
Adzuki beans
Recommended binders
Almond butter
Peanut butter
¼ cup of ground flax seed mixed with ¼ cup water
Pureed pumpkin
Mashed avocado
Recommended sweeteners
Maple syrup
Brown rice syrup
Agave nectar
Honey (if you're not vegan)
Recommended soft, sweet fruit
Applesauce
Mashed banana (about half of one)
Chopped dates (remove the pits!)
Crushed pineapple
Recommended optional extracts
Vanilla
Almond
Lemon
Coconut
Coffee
Recommended dry spices
Cinnamon
Ginger
Nutmeg
Cardamom
Instant coffee
*For stronger spices like nutmeg and cardamom, use just a ¼-½ teaspoon and combine with less intense spices like cinnamon.
Recommended dry base ingredient (a combination is usually best)
Protein powder (we're fans of chia seed, almond, pumpkin seed, watermelon seed, and pea protein, and usually use Complement Protein)
Brown rice flour
Spelt flour
Cocoa (max ½ cup)
Whole-wheat flour
Buckwheat flour
Recommended stir-ins
Shredded coconut
Dried cranberries
Raisins
Dried apricots
Chopped nuts
Cacao nibs
Dry cereal
Crushed pretzels
Chocolate chips
So that's the basic formula! To help get you started, here are three variations Christine came up with. For each of them, follow the same procedure from above for mixing and baking.
Example #1: chocolate black bean happy bars
1 can of black beans, drained and rinsed (about 1.5 cups)
½ cup almond butter
¼ cup agave
¼ cup mashed banana
1 teaspoon vanilla extract
¼ teaspoon salt
1.5 cups of oats
1/2 cup cocoa + ½ cup brown rice flour
½ cup shredded coconut + ½ cup raisins
Example #2: cranberry-pistachio protein bars
1 can chickpeas, drained and rinsed
½ cup binder: ¼ cup of ground flax seed with ¼ cup water
¼ cup agave nectar
¼ cup applesauce
1 teaspoon vanilla extract
1 teaspoon of cinnamon
¼ teaspoon salt
1.5 cups of oats
1 cup vanilla protein powder
½ cup pistachios + ½ cup dried cranberries
Example #3: maple pumpkin health bars
1 can of great northern beans, drained and rinsed
½ cup pureed pumpkin
½ cup maple syrup (Christine used more maple syrup in place of the sweet fruit here, for more maple flavor)
1 teaspoon pumpkin pie spice
¼ teaspoon salt
1.5 cups of oats
1 cup spelt flour
1 cup raisin bran cereal
So there you go, three examples to get you started. But really, the point is for you to create your own, using the basic formula as the framework. So I hope you'll do that, and let us know what you come up with!
I'm excited about this formula idea … now we're trying to think of other things to come up with easy formulas for lots of varieties. Any requests?
[Update: NMA reader Andrew went the extra mile for us and put together a spreadsheet that calculates the nutritional information for any combination of ingredients you can come up with. You simply enter the nutritional information for each ingredient you use, as well as how much you used, and the spreadsheet spits out the numbers per serving. It even calculates the cost if you put that information in! Feel free to download the spreadsheet for your own use. Thanks Andrew!]