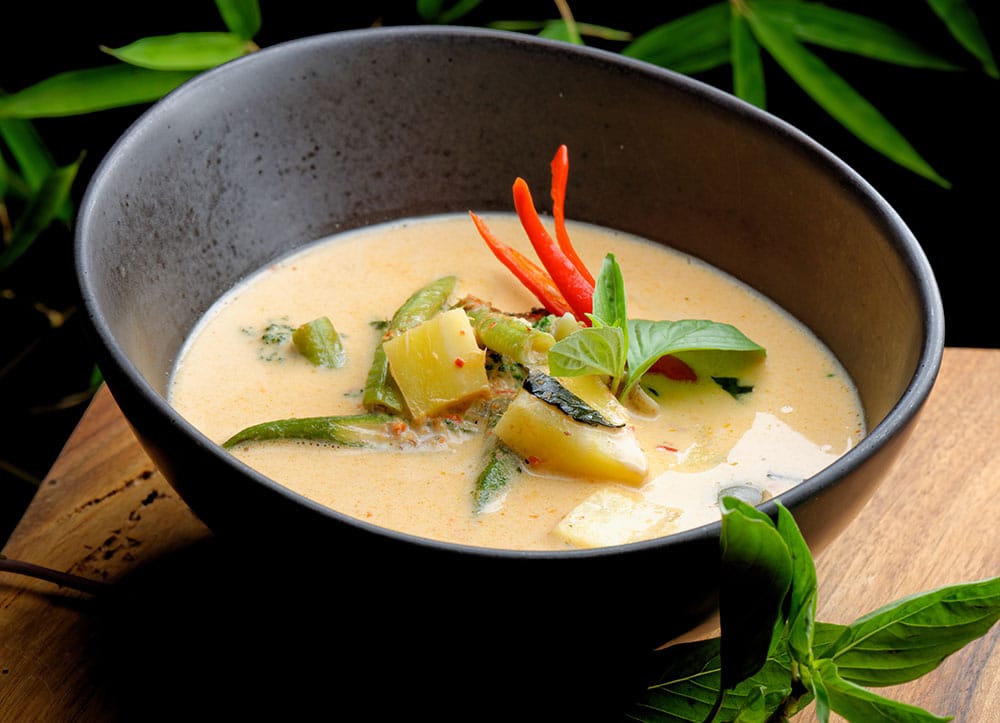 The Sauce System: 5 Staple Vegan Sauces for Endless Meal Options
When I first started to care about what I ate, my cooking repertoire consisted of Kraft Mac & Cheese and pasta sauce à la jar.
If I added a vegetable into either dish, it was my attempt to impress a lady (smooth, I know).
So when I finally felt the need to learn how to cook, I did what most people do … I bought a cookbook.
I chose one written by a famous TV chef, went to the kitchen, and made a shopping list. But it didn't take long to realize that following detailed recipes is both time consuming and annoying, and I was quickly back to heating up jars of red sauce.
That's the hangup for a lot of people trying to go plant-based or vegan, vegetarians, or people who simply want to eat more whole foods. Planning for and cooking unfamiliar meals is just too darn hard to maintain.
Which is exactly why I love cooking formulas — like the Chipotle Method — that break cooking and planning into an adaptable process to save time, use what's already in your fridge, and eliminate the hassle of following a recipe.
Recently, my wife Katie and I developed our own system for meal planning. Only instead of a traditional formula, we use sauces. And it has completely changed the way we cook.
The Sauce System for Simple Meal Planning
Matt is a big fan of single ingredient meal planning, where instead of starting with a cookbook, you plan your meal based on an ingredient you already have. That process narrows down your meal options, and eliminates much of the frustration that comes from trying to decide what to cook.
Katie and I have taken that same philosophy, only instead of a single ingredient, we start with the sauce.
After looking through our list of favorite vegan recipes, we found that what made us love one recipes over another wasn't a particular starch, vegetable, or plant-based protein. It was the sauce.
Because everyone loves a good sauce, right? A sauce can turn a simple vegetable or rice into a dish you crave for days.
Sauces by nature are endlessly adaptable. Add spice to pump up the heat, or herbs to bring out a particular flavor.
Cook the sauce down and it will thicken, or leave it runny to coat your meal completely.
Katie thought that if she could memorize a number of basic sauces, we could skip the recipes and base each meal off whichever sauce we felt like that day. Adding whatever we had in the pantry or fridge to round out the meal.
And it worked.
Our meal planning became incredible simple, and completely adaptable for quick, last-minute dishes.
(To help you get started with the sauce system, check out the How to Use The Sauce System section and challenge below the recipes.)
Why I Strip Sauces to Their Basic Ingredients
When taking the the sauce system approach to meal planning, the first thing you must do is learn a few basic sauces.
I say basic, because the more you can break a sauce down to its fundamental ingredients, the more you can adapt it to fit your dish. If you have a complex sauce, it may only fit a specific meal, but a simple sauce can be transformed into a variety of flavor profiles.
And, of course, they're easier to whip up at the last minute.
We took our favorites sauce recipes and asked ourselves these questions:
What ingredients are fundamental to the sauce?
Can I take out certain spices or herbs and still keep the integrity of the sauce?
How can I make the ingredient measurements as simple as possible?
Once we had the basic recipes locked in, we'd keep the ingredients on hand and ready for cooking.
So what are our go-to sauces? Read on to find out.
5 Staple Sauce Recipes (And How to Use Them)
Below I've included the five staple sauces we focused on first. They're easy to make, require few ingredients, and can provide the inspiration for countless dishes.
These are also where I'd recommend you start when using this system:
1. Tomato Sauce
Tomato sauce is probably the most popular sauce around, and it happens to be incredible easy to make.
Basic Recipe
1 Tbsp extra virgin olive oil (optional)
2 cloves of garlic, minced
1 medium to large onion, chopped
32-ounce can of diced tomatoes
Seasoning to taste (salt, black pepper, thyme, fennel seeds, Italian seasoning blend …)
Saute the onion and garlic. Add diced tomatoes and seasoning, and cook until the sauce reaches your desired thickness.
Simple Variations
Add hot peppers for spice
Drain the can of tomatoes to remove juice and make the sauce thicker
Add large fresh tomato chucks for extra texture
Blend in raw cashews for a creamy sauce
Use Indian spices to move away from the typical Italian flavors
Ways to Use It
Tomato sauce can be used in everything from soups to pizza. Here are examples of my favorite ways to use it:
2. Coconut Curry
Without a doubt the favorite dish my wife likes to cook is coconut curry. She has mastered it, and I just can't get enough.
And the best part is that you can easily change the flavors by adding different spices or ingredients. Here's the basic recipe:
Basic Recipe
1 Tbsp extra virgin olive oil (optional)
2 cloves of garlic, minced
1 can of coconut milk
1.5 Tbsp curry powder
Splash of lime juice
Salt and pepper to taste
After cooking the garlic, add the remaining ingredients and cook down until you reach the desired consistency.
Simple Variations
Add two tablespoons of peanut-butter for a peanut curry (top your dish with crushed peanuts for added crunch)
Replace the curry powder with red curry paste for a Thai red curry variation
Add extra hot peppers and spices for a bigger punch
Ways to Use It
Coconut curry goes best with Asian inspired dishes. Here are some of the simplest ways to use it:
A basic stir fry with vegetables, tempeh or tofu, and rice. Simply pour the sauce over top of your cooked dish
Peanut noodle bowls (the peanut version of my curry sauce works just as well as the peanut sauce with this recipe)
3. Lemon Tahini
Lemon tahini sauce brings a fresh Mediterranean taste to your meal rotation, but your not limited to just the traditional dishes:
Basic Recipe
1 cup tahini
1 cup water
Juice of 1 large lemon
1-2 cloves of garlic
1 tsp of ground cumin (optional)
Fresh ground salt and pepper to taste
Mix all ingredients in a food processor and blend. Adjust based on taste preferences.
Simple Variations
Cut back on the water and add 1 cup coconut milk for a coconut tahini sauce
Add 1 cup mint for a more refreshing flavor
Ways to Use It
I like to think outside the box when it comes to tahini sauce:
Create a unique pasta by coating noodles, sauteed vegetables, and beans with a runny version of this sauce
Toss chickpeas and raw veggies and serve in a wrap
Pour over a rice and falafel dish
4. Teriyaki
Teriyaki is a common base sauce for stir-fries, and it's super easy to put together:
Basic Recipe
1 cup soy sauce
1/2 cup water
1 tsp brown sugar or agave nectar
1 Tbsp fresh ginger, peeled and minced
1 clove garlic, minced
1/4 cup scallions, minced (optional)
Combine ingredients in a sauce pan, heat and stir until sugar is dissolved.
Simple Variations
Add extra sugar for more sweetness
Fresh hot peppers bring an added spice
Add a splash of rice vinegar for more bite
Cook down for a thicker drizzle
Ways to Use It
Because Teriyaki is a looser sauce than some of the others, it can coat noodles and top salads:
Stir fry whatever vegetables to you have in the fridge and pour over rice
Marinate tempeh, vegetables, or tofu in the sauce overnight and throw on the grill
Toss with a noodle bowl
Use as a salad dressing for an Asian salad
5. Cashew Cream
We have a version of cashew cream sauce ready and in the fridge at all times. When it's not the main sauce for a meal, it's often an add-on for extra flavor.
Basic Recipe
2 cups raw cashews
1/4 cup lemon juice
1 clove garlic
1/4 tsp paprika
Salt and fresh ground black pepper to taste
1/2 to 1 cup water
Add all ingredients into food processor or high-powered blender and blend until creamy in texture.
Simple Variations
Reduce the amount of water to thicken for a topping
Add 1/4 cup nutritional yeast for a cheesier texture (perfect for pasta dishes)
Add 1-2 Tbsp of chipotle seasoning and tomato paste for a spicy variation
Use dairy-free milk instead of water for more creaminess
Ways to Use It
From a cheese-like flavor to a creamy topping, cashew cream is always a hit:
Chipotle cream is the perfect topping for vegan enchiladas or burritos
No more Kraft! I love a good vegan macaroni and cheese dish (add kale or chard for extra flavor)
Use a thick version as a topping on baked potatoes or chili
How to Use the Sauce System to Plan Your Meals (Plus a 4-Week Challenge)
With the basic recipes down, there are a variety of ways to use the sauce system for meal planning.
It can be done informally, like Katie and I do it: we choose a few sauces each week and make quick meal decisions once we've received our farm share and see what we have.
Or you could take it one step further and actually assign certain sauces to certain days, reducing the number of decisions even more.
Maybe every Monday is tomato sauce day, Tuesday teriyaki, and so forth.
Need a little motivation to start using the system? Try a month long meal planning challenge:
Assign each sauce to a specific weekday (Tomato Monday, Teriyaki Tuesday, etc.)
Each week, choose one of the "Ways to Use It" options for that sauce
The following week, mix it up and use the sauce in a different way
Between the five sauces and suggested ways to use it, you nearly have a new meal planned for every weekday for a month — without any planning at all!
Plus, by the time this challenge is over, you should have each of the sauces memorized and ready to use on any given day.
Keep Meal Planning and Preparations Easy
As with most things, simplicity is what makes a major lifestyle change stick. And that's what the sauce system does for your meal planning.
It's as easy as choosing a few sauces you want this week and deciding how to serve them.
No recipe books. No frantic scrambles for last-minute ingredients.
Just an easily adaptable system for cranking out delicious vegan meals.
About the Author: Doug is an ultrarunner, coach, and the co-host of NMA Radio. Pick up his free eBook, Why Every Runner Should Be a Trail Runner (And How to Become One).