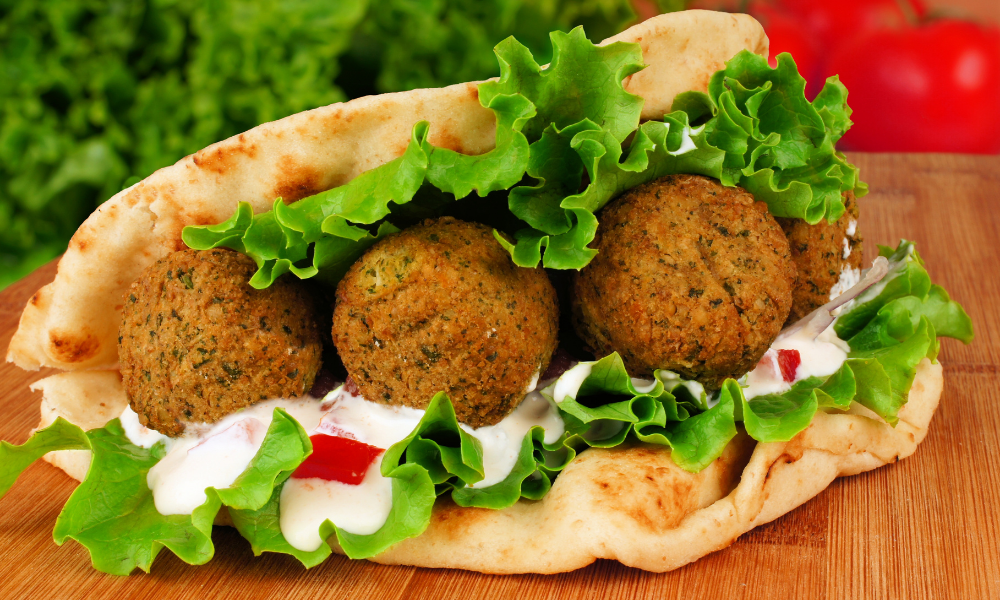 Falafel that didn't suck
The first time I made falafel, back when I was just a newb' vegetarian, it could only have been described as fal-awful. The problem, Erin and I decided, was that it was grilled, not deep-fried carnival-style. And as a result it was dry and mostly tasteless.
To give it another go, I turned to trusty old Fine Cooking, where I found a recipe for falafel sandwich with cucumbers and tomatoes. And no, it still wasn't fair fare served by a bearded lady, but it was at least pan-fried on both sides to give it some color and flavor before it was baked. And it was surprisingly tasty! In fact, I'm going to eat it again as soon as I get home.
The recipe is ridiculously easy to make; all you really have to do is combine chickpeas, onions, breadcrumbs, and some spices in a food processor, then chop up the veggies while you fry and bake the falafel. Then you serve it all in a pita with some yogurt — only you use real pita, not this crap I bought called "Sandwich Thins."
You see, the town grocery store that I've gone to my whole life was recently bought out by a chain, and now they have crappy stuff, such as this instead of pitas. Plus the place is in danger of being overrun by old people, and if you thought grocery shopping was loads of fun before, well — I'll stop.
The moral: delicious, easy, cheap, healthy recipe. Make it next time you don't know what to make when the spouse is on her way home.
A scare!
Yesterday my November streak of running every day was kept alive by a technicality — a mile and a half around the neighborhood. I was so busy during the day that I didn't get a chance to run until after I got home at 6:30. It was dark by then, so I strapped on my headlamp and Vibrams and was "that guy." But during this little nothing of a run, I had some pain in the top of my foot, which set off my metatarsal-stress-fracture alarm. So I worried about it for the rest of the night, decided not to run in my Vibrams again until next week, and ran seven normal miles today with no problems. So fingers crossed, all is fine.
Runaround Stu
I'm writing this post in the car! My mom and I went to see Stu Mittleman speak tonight and now we're driving home. A lot of people haven't heard of Stu — I only know him because Tony Robbins always talks about him — but his ultrarunning accomplishments are pretty incredible. 577 miles in six days, 1000 miles in less than 12 days, and, oh yeah, a leisurely 52-mile per day jog across the country.
Anyway the guy was completely inspiring and talked a lot about alkaline nutrition and the joy of running easy. I just ordered his book! And as soon as I get a recap post together I'll fill you in on the details from his talk.