11 Questions New Vegan Athletes Have (But Are Too Afraid to Ask)
An athlete, as I define it, is anyone who participates in an athletic endeavor — running, cycling, climbing, soccer, you name it — regardless of ability.
And vegan athletes, or really anyone trying to get most of their calories from plants, come into their athletic goals at a distinct disadvantage.
No, not because of the food…
But because of the narrative they've been told their whole life:
Meat = strength = athlete
Growing up and seeing that messaging in commercials, cartoons, and even hearing it from their parents means that no matter how many times they watch The Game Changers, as a new vegan athlete they're dealing with a constant level of doubt in the back of their mind that only goes away with firsthand experience.
If that's you, remember…
You're not alone. We've all been there — pros to weekend warriors.
This post aims to address some of those doubts through commonly asked questions and hopefully give you a tool to reference when you need it most.
Vegan Athlete FAQ Quick Reference:
A quick story about my own doubt.
Walking into my first veg fest in 2010, I brought with me one burning question:
Could I continue training for a marathon as a vegetarian?
Not vegan but vegetarian. At the time, as a reader of this blog, I knew that at least one person had done it…
I asked my burning question in front of a large crowd at a Q&A…
And the speaker answered with a resounding yes.
But still, I worried. Because for every person I met that said I could do it, two people questioned it.
Of course, I'm now living proof that you can run marathons, ultramarathons, and anything you damn well please on not just a vegetarian diet but a 100% vegan diet.
But quite frankly, at the time, I knew so little about both running and nutrition that a single argument against the diet left me questioning it for weeks.
If you can relate, there's no shame in that doubt. It's natural, especially at the beginning.
Let's answer the questions I had and several others, so that the next time someone (or you) comes at you with push back, you know how to respond.
1. Where do I get my protein?
I think it's against the vegan rules for an FAQ list like this not to start with protein… so here it goes:
First of all, you don't need as much protein as you think.
The US recommended allowance for non-athletes is just 0.8 grams per kilogram of body weight, or .36 grams per pound. That's about 50 grams/day if you weight 140 pounds.
For endurance athletes, at least one study recommends a bit more — 1.2 to 1.4 grams per kilo of body weight (.54 to .63 grams per pound), and 1.4 to 1.8 grams per kilogram (.63 to .81 grams per pound) for strength athletes.
Translating that into the real world:
For an endurance athlete who weighs 140 pounds, that's about 83 grams of protein per day.
Here's an example of how to easily hit those numbers through a typical day:
Breakfast: Smoothie with vegan protein powder, plus a slice of whole-wheat toast with peanut butter — 21g
Morning snack: 2 handfuls of nuts — 10g
Lunch: Salad with a cup of black beans and a nut-based dressing — 20g
Afternoon snack: Carrots and hummus — 8g
Dinner: Whole wheat pasta with lentils — 26g
That comes to 85 grams of protein, and I think you'll find that you're actually eating way more than that.
Check out these additional resources for further digging:
2. Are sports nutrition products (gels, gummies, and energy bars) vegan?
Surprisingly, many sports gels, gummies, and bars are vegan. In fact, over the past several years, several companies have moved their entire line to be fully vegan.
The most common non-vegan ingredient is probably honey, which some brands use as a source of sugar.
If you're aiming for a whole food plant-based diet, turn towards fruit for fuel.
(Or you can check out our real food energy product, Plant Bites, for the power of whole foods and the convenience of a packaged sports nutrition product.)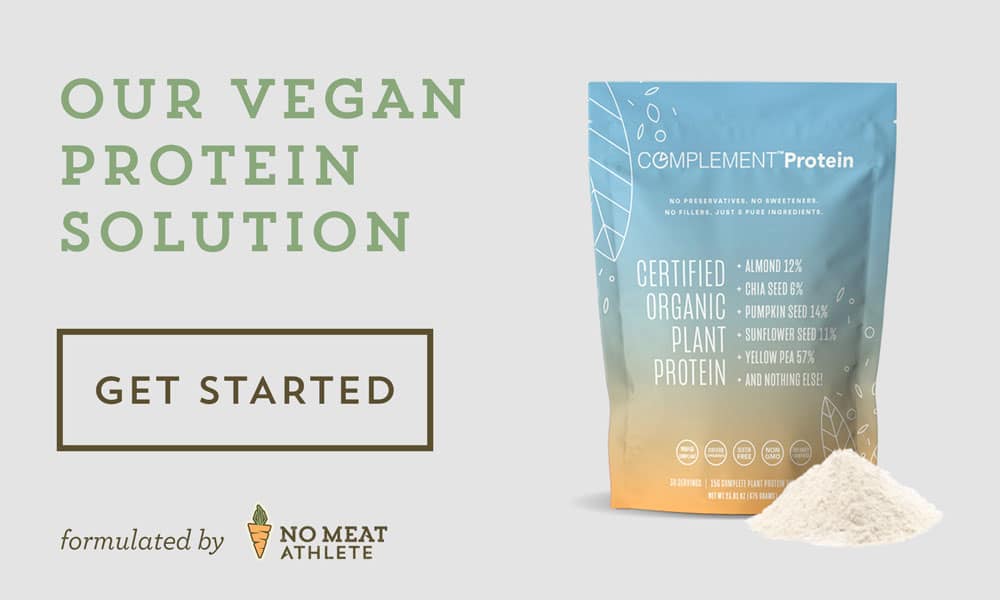 3. What should I eat before, during, and after a workout?
Even for people who eat a standard diet, workout meals and snacks are often plant-focused, carbohydrate-heavy foods with quick-burning energy.
So it works out well for vegans that oftentimes there's little, if anything, to change. Still, let's look at the common recommendations…
The standard advice is to eat the following carbohydrate-to-protein ratios around your workout:
Before your workout: 3:1
During your workout: 4:1
After your workout: 5:1
This ensures you have the quick-burning energy needed ahead of your workout and enough glycogen and protein to promote proper recovery after.
Here are some example meals that outline how this advice works in practice:
Before your workout
2 hours before: Oatmeal with nuts, seeds, protein powder, and berries
1 hour before: apple with butter
30 minutes before: Fruit, fruit juice, or sports fuel like Plant Bites
During your workout (roughly 200 calories per hour)
Fruit (dates, banana, figs, etc.), sweet potatoes, juice, or sports products
After your workout
20-30 minutes after: Fruit or smoothie
1 hour after: Pasta with beans
Looking for more? Check out these resources:
4. Are running shoes vegan?
When it comes to running or athletic shoes, it's usually not the fabrics that keep a shoe from being vegan. Instead, it's the fact that many companies use glue derived from animal bone.
Information from brands is often sketchy at best. Believe it or not, most manufacturers don't always know which glues are used.
Still, a quick Google search of a shoe will often provide some insight on whether or not it's vegan, and brands are beginning to do a better job at labeling some shoes vegan.
As a starting point, Altra, New Balance, Hoka One One, Brooks, and Salomon shoes are often vegan.
5. How does a vegan diet impact my recovery time?
Faster recovery is one of the most cited benefits of a vegan diet for athletes. But is it true, and if so, why?
For many people, it probably is true, because…
Plant foods are often rich in antioxidants, which help to keep inflammation in check and can help your body heal faster.
A review published in the book Antioxidants in Sports Nutrition looking at antioxidants and their impact on inflammation and immune function in endurance athletes found that a diet rich in plant foods, including fruits, vegetables, whole grains, and legumes, "was associated with higher total antioxidant capacity and reduced levels of oxidized low-density lipoprotein (LDL)-cholesterol."
The review also noted a plant-based diet leads to "reductions in markers of inflammation and coagulation."
A different scientific review published in the journal Nutrients sums of those benefits well:
"The possibility that [plant-based diets] may also contribute to improved performance and accelerated recovery in endurance sports is raised by their effects on blood flow, body composition, antioxidant capacity, systemic inflammation, and glycogen storage.
"These attributes provide a scientific foundation for the increased use of plant-based diets by endurance athletes."
But of course, there's no better proof than experiencing it yourself.
Some of the most impactful anti-inflammatory foods to include in your diet are:
Beetroot
Turmeric
Berries
Watermelon
Dark leafy greens
Pineapple
6. Do vegans break more bones / get more stress fractures / get injured more often?
This was one of the big concerns I had when I first went vegetarian. Athletes get injured enough as it is, so how does diet impact the likelihood of injury?
There's good news and bad news…
The good:
As stated above, plants can improve recovery by reducing inflammation.
Faster recovery = lower risk of injury.
The bad:
You may have seen the recent epidemiological study out of Oxford University that found vegetarians and vegans break more bones. They used data from the 1990's EPIC-Oxford study, which followed about 55,000 participants for an average of 18 years.
Contrary to what might be your first thought, it isn't for a lack of calcium in our food that causes this issue — leafy greens and even foods like soy are loaded with calcium.
According to plant-based doctor Garth Davis, MD, it's likely because of two critical hard-to-get nutrients on a plant-based diet, vitamins D3 and K2, which weren't accounted for in the study.
Vitamin D3 aids in the absorption of calcium, and Vitamin K2 helps utilize calcium for bone density.
The reason vegans and vegetarians are more at risk is that vitamin K2 is found in several animal products like eggs and cheese, but not abundantly in plant foods.
For this reason, Dr. Davis encourages you to add these nutrients into your diet through supplements or fortified foods.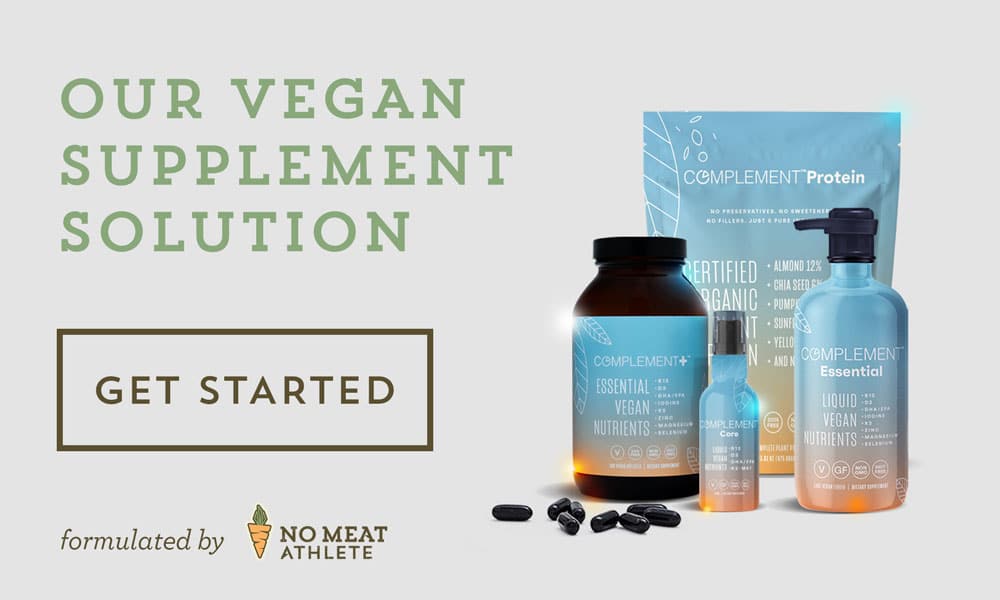 7. What are the best meals for vegan athletes?
Food, glorious food.
The best meals depend on your training goals.
Do you need to hit certain macronutrient or calorie numbers?
What phase of training are you in?
These are the types of questions that will shape the way you fuel.
So let me leave you with a few resources for where to get started:
8. Will there be vegan options at a race aid station?
If you're running a marathon, ultramarathon, or triathlon, chances are you'll be dealing with aid stations at the race.
But will they have what you need?
As I mentioned earlier, a lot of sports nutrition is already vegan — many gels and gummies, fruit, sports drinks, etc. — but there are often non-vegan foods at aid stations as well.
My approach is always to plan for the worst by assuming vegan options will be limited.
In planning for the worst, I bring all the critical race-day nutrition with me, and if there's something at the aid station, it feels like a bonus.
The result is that I often end up carrying more than some runners, but it's worth it to have the peace of mind that I'll have everything I need.
By the way, this also applies to after the race. If you're planning to take advantage of a post-race meal at the finish line, be sure to bring something to snack on as a backup.
9. Can I lose weight on a vegan diet?
Many people lose weight when they switch to a vegan diet because they're naturally eating less processed foods, fewer calories, less fat, and more fiber.
Whole plant foods are nutrient-rich and calorie-poor, so when you fill your stomach full of veggies, beans, and whole grains, you're getting a ton of nutrition without the calories in processed foods or animal products.
For example, a cup of carrots contain 45 calories, but a cup of cheddar cheese contains 531 calories. Huge difference.
And if weight loss is your goal, filling your diet with nutrient-rich, low-calorie foods is the recipe for success.
Further reading:
Note: If you're training for an endurance event, however, I don't recommend having both performance and weight loss goals. They often conflict with each other and the result is often not being happy with either.
10. Can I gain weight on a vegan diet?
While weight loss is more common, plenty of vegan athletes have weight gain goals as well.
And just like with weight loss, caloric density and increasing your overall calorie consumption are the drivers behind weight gain.
Consume more calories than you burn and you'll gain weight.
But what does that look like in action?
There may be no better example of someone gaining weight on a plant-based diet than vegan bodybuilder Robert Cheeke. Robert has gained over 100 pounds on plants, most of which is muscle.
In a recent post, Robert outlines how to determine your caloric needs, along with several sample meal plans to help you get started.
You can also download our free Vegan Weight Gain Cheat Sheet.
11. Can I hit my macronutrient needs without eating meat?
When it comes to body transformation, calories are just part of the story.
The macronutrients that make up your calories will determine the type of tissue you gain (or lose) when training. And for that reason, many athletes are just as focused on their macros as they are on physical training.
So can you hit your macros without animal products?
Of course! Carbohydrates are easy — hello, nearly every vegetable — and with a plan of attack, fat and protein can be just as natural.
For example, a handful of mixed nuts can have as much as 16 grams of fat; half an avocado has 11 grams.
Nuts, seeds, coconuts, oil … these are all high in plant-based fats. And as for protein, you check out that breakdown here.
But when you talk about hitting certain macronutrient numbers, keep in mind that everyone is different, and ensuring results takes effort.
Vegan bodybuilders Giacomo Marchese and Dani Taylor outline the steps for determining your macronutrient needs — (1) find your maintenance calories, (2) find your deficit, (3) calculate protein, fat, carb, and fiber needs — along with how to hit them, in an in-depth body transformation guide here.
You Are the Best Tool to Combat Doubts
A massive, growing community of plant-based athletes are showing the world every single day what we're capable of doing on plants…
But the best way to beat back doubts — internal or external — is to experience it yourself.
Whether that means going vegan for 30 days as a trial run or signing up for your first half marathon after years of plant-based eating.
So ditch the doubts. Kick the "can'ts." Hold off the haters…
Now's your chance to prove to yourself what's possible.