What Tom Brady Eats in a Typical Day (And What You Can Learn From It)
By:
Alyssa Hodenfield Doug Hay
Few people have had a more profound impact on modern-day football than Tom Brady.
While he may stir up a lot of emotion from football fans, there's no denying Tom is one of the best quarterbacks of all time.
He's 43, has played in nine Super Bowls (leading his team to victory in six), and has been named league MVP three separate years. And this Sunday, he heads to his tenth Super Bowl championship.
So it begs the question: what makes Tom Brady great?
Genetics, work ethic, and skill all play a major role, I'm sure, but Tom has been equally focused on nutrition to help him sustain peak performance year after year.
And it turns out, he eats a predominantly plant-based diet.
Is Tom Brady Vegan?
No, he's not. But according to his personal chef, Allen Campbell, Tom eats a diet consisting of 80% vegetables.
In fact, Chef Allen himself is a graduate of the eCornell Plant-Based Nutrition course taught by Dr. T. Colin Campbell, and believes that "a plant-based diet has the power to reverse and prevent disease."
In 2016, Tom took it a step further by partnering with vegan meal delivery service Purple Carrot to create a plant-based performance meal plan, which his teammate Rob Gronkowski credits for extending his own career as well.
So while he might not be vegan, Brady certainly understands the power of plants.
Why Major Athletes are Embracing a Plant-Based Diet
Unless you've been hibernating for the past few years (and if so, I don't blame you), you've probably seen countless elite athletes turning towards a plant-based diet.
Athletes like ultrarunner Scott Jurek, Formula-1 driver Lewis Hamilton, tennis greats Novak Djokovic and Serena and Venus Williams, and NBA star Chris Paul all thrive on plants. The plant-craze is sweeping across the NFL as well, with players like Tennessee Titans lineman Derrick Morgan and New England Patriots quarterback Cam Newton also going vegan.
What makes this diet so attractive to athletes?
You could say it all starts with digestion…
The digestion process takes a lot of energy, and the more calories we eat, the more energy our bodies have to put into the digestion process.
Plants, however, provide a ton of nutrients without overwhelming the system with calorie dense foods. This gives our bodies space to reallocate that energy to recover and rebuild muscles.
Speaking of muscles, workouts break down muscle fibers, naturally causing inflammation. And while many animal products cause more inflammation in your body, plant foods actually fight against it and, again, allow your body to recover more quickly.
Plus, studies have also shown that a plant-based diet can improve heart health and reduce body fat, as well as increasing aerobic capacity.
All of this has lead elite athletes — from endurance sports to bodybuilding and power sports — to bust the stereotypes and embrace the recovery, energy, and strength benefits that come with eating a plant-centered diet.
A Look at What Tom Brady Eats on a Typical Day
It's not until we explore a typical day's diet that we get a full picture of the abundance of plant foods Tom actually eats. Here's a breakdown, based on an outline in his 2017 book, The TB12 Method:
Pre-workout: Fruit smoothie with blueberries, bananas, seeds, and nuts.
Post-workout: Protein shake with protein powder, almond milk, and electrolytes.
Morning shack: Nuts, seeds, and fruit.
Lunch: A salad with a lot of vegetables and sometimes fish.
Afternoon snack: Protein shake or bar, fruit, chips and guacamole, hummus, or raw vegetables.
Dinner: A plate full of vegetables, greens, avocado, and a protein (maybe chicken or fish).
Replace the rare animal protein with a few servings of beans, and you have what I'd call the optimal whole-food plant-based diet.
In addition to loads of nutrient-rich foods, water and electrolytes flow all day. According to Men's Health, Tom drinks as much as 25 glasses of water per day (often infused with his electrolyte formula), nearly 3 times the amount an average person drinks.
And in case you're wondering what he eats on game day, it's a smoothie and an almond butter and jelly sandwich.

What You can Learn from Tom Brady's Plant-Centered Diet
I get it… you're not a world-class athlete. Neither am I.
But still, I believe there are a few key lessons we can take from Tom Brady's diet and apply to our own lifestyle.
1. Eat a lot of whole plant foods.
Oftentimes you hear from athletes justifying a highly processed, unhealthy diet by declaring they earn it through a tough workout.
And you know what? You do deserve to treat yourself.
But for longevity in sport and life, filling most of your meals with healthy whole foods has proven benefits… no matter how tough the workout.
2. Drink lots of water.
Twenty-five glasses of water might is likely may be too much for you and me, since we're not doing NFL-caliber workouts every day. But proper hydration is linked to all sorts of health benefits: It lubricates and cushions joints, improves brain function and energy levels, aids digestion, regulates blood pressure, and manages body temperature, among other things.
3. Get the critical nutrients.
By focusing so heavily on fruits and vegetables, Tom gets the vast majority of his nutrients from plants.
But, from what we know, he also regularly consumes fish.
Fish contain two critical nutrients often lacking in plant-based diets:
Anti-inflammatory omega-3 fatty acids, which help lower risk factors for heart disease, improve energy levels, and regulate the nervous system.
Vitamin D, which helps fight against chronic heart disease and certain cancers.
Does this mean we need to eat fish if we want to perform at our best?
No. Here's the thing: the Omega-3s in fish come from the algae they eat, and the Vitamin D comes from lichen.
You can avoid the middleman by going straight to the plant source, which contains a higher ratio of nutrients and avoids the health and environmental issues that come from eating fish like microplastics, mercury, and unstable fish populations.
As for other hard-to-get nutrients like zinc, selenium, and Vitamins D and B12, Tom is likely picking up them up through chicken or eggs. Of course, you can get those from plant-based sources as well (which is why we created Complement).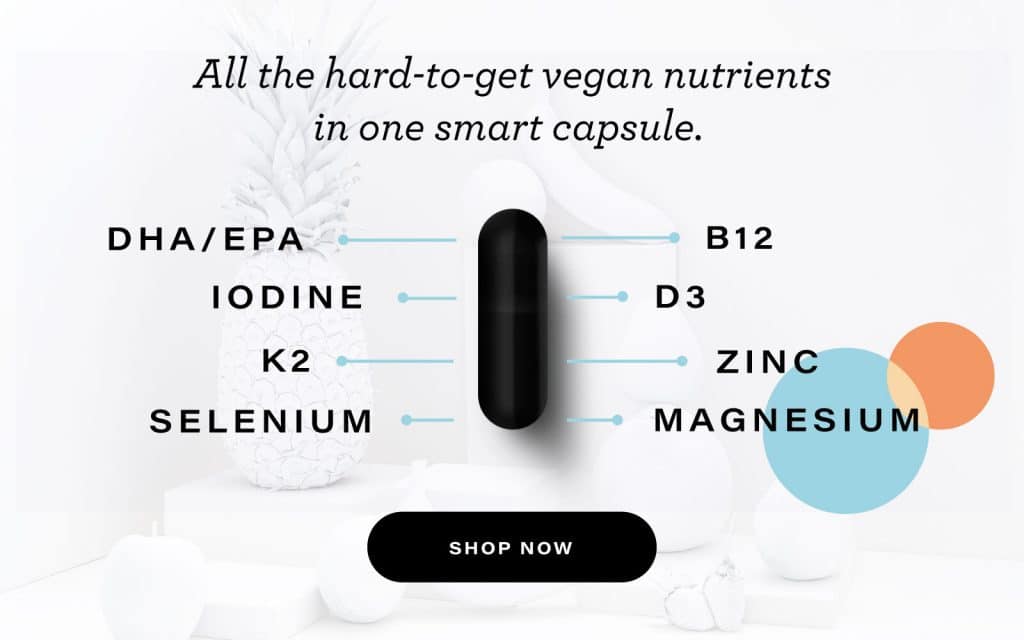 Tom appears to understand that you need to get these nutrients from somewhere, whether that's from an animal or plant source…
We just prefer the plant. 😉
Are Plants the Future of Sports Nutrition?
With so many athletes turning towards a plant-based diet, could we eventually see an athletic world where this becomes the norm?
That question remains unanswered, at least for now. But a quick look around this community of No Meat Athletes, and there's no doubting the performance benefits.
Tom Brady's reliance on plants to fuel his performance, year after year, is yet another victory for this movement.