7 Steps to Eating Less Meat in 2021
Want to eat less meat, but worried about taking the plunge?
Maybe you want to go vegan or start eating a mostly plant-based diet. Or you've recognized the health benefits of eliminating red meat and what to start there.
It took me two attempts at going vegetarian before I could make it stick. The first time, I didn't plan anything — I just stopped eating meat "cold turkey," if you will. (Sorry.)
That lasted about a week before I was back on the meat-train.
The second time, the change lasted. I was vegetarian for several years before later going vegan (which also took me two attempts).
During the second attempt — the one that lasted — I took a more measured approach.
Ultimately, my plan to stop eating meat boiled down to 7 steps, which I happily share with you now, along with a first action to get you started.
7 Steps to Eating Less Meat Now
1. Commit to eating less meat.
Seems easy enough…
But one thing is certain: There are times when your new diet will be inconvenient. Parties, travel, dinner with friends, going out to eat.
If you want to get through these without slipping up, you'd better be committed.
Your first action:
Tell everyone you know.
Post it on Facebook. Blog about it. Take a trip to the health food store and buy lots of stuff for your new diet.
Why go through all that trouble?
Because no one likes to be embarrassed, mostly. And if you fail, you'll have to tell people that too.
2. Tie it to another goal and get excited.
When I went vegetarian, it wasn't really about not eating animals. It was about having more energy than ever; it was about a glimmer of hope that this diet would help me qualify for the Boston Marathon.
Being vegetarian became part of my training. That's what made it so easy to stick with — I wanted to qualify for Boston more than anything, and in my mind, cutting out meat became the way to do it.
Your first action:
Find something else that means even more to you than just "being a vegetarian" or "being a vegan."
It could be:
Or anything else that gets your mojo flowing. The point is, when you have more to lose than just not eating meat, you're more likely to stick with it.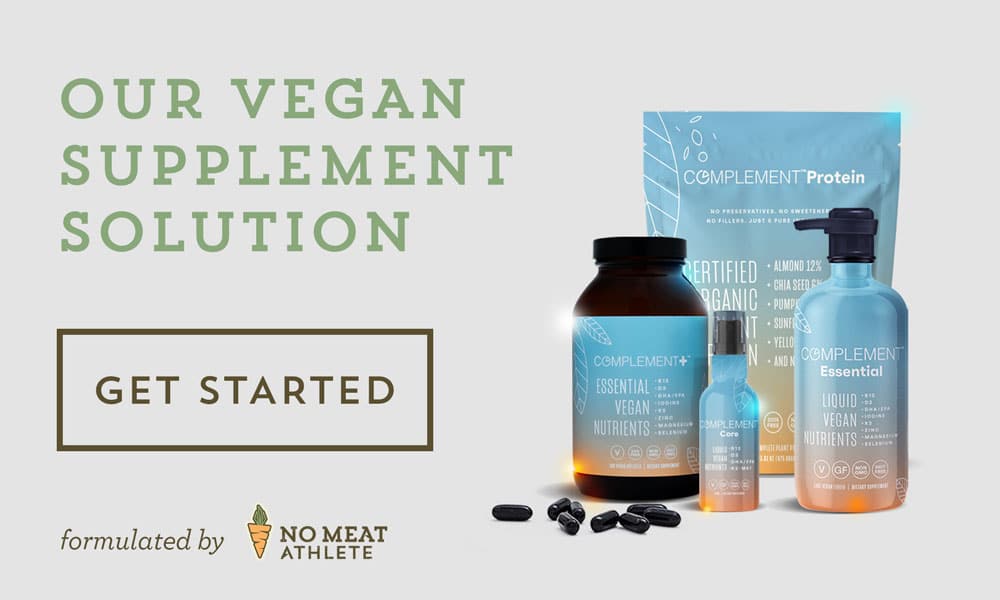 3. Start small.
For me, the scariest part of it all was the thought that "I'll never get to eat X again." But when you take on a diet shift like this, it doesn't have to be that way.
Avoid it by starting with 10 days, during which you will not cheat. You can do anything for 10 days, can't you?
Once the 10 days are up, you'll likely notice increased energy and weight loss. At that point, evaluate whether this is something you could do for 30 straight days (only 20 more!). Chances are if you make it that far, you won't want to go back.
Your first action:
Take the challenge approach. It could be a 10-day vegan challenge or vegan before 6.
Or if you want to start really small, Meatless Mondays.
4. Phase the meat out.
Sometimes a shocking change is exactly what you need to zap you out of your old habits. But for me, going completely vegetarian or plant-based all at once probably would have been too much — phasing out meat gave my taste buds time to adjust.
I didn't eat red meat and pork for about a year before I went further with it. Then I quit eating poultry, and was left with a mostly healthy, pescetarian diet of fish and plants. My plan was to stop there, but a concern for animals took over, and I phased out fish by eating it once a month or so. I soon lost the taste for it and went completely vegetarian, then vegan.
If you're more of the go-big-or-go-home type, I say go for it. But if that doesn't work, give phasing out meat a try before you give up.
Your first action:
Start by eating 4-legged animals just once or twice per week. Do this for a few weeks until it begins to feel comfortable. Then transition down to 2-legged animals a few times per week.
Gradraully make your way to no-legged animals (fish), non-meat animal products, and eventually all the way plant-based if that's your goal.
5. Plan meals.
A wise man or woman once said, "If you're failing to plan, you're planning to fail." In this case, that couldn't be more accurate.
If you don't eat well now, simply removing the meat from your current diet will make you less healthy. You can't live on hamburger buns and fries, and you shouldn't live on spaghetti with tomato sauce.
You need to find plant-based recipes and plan meals that can stand alone and designed to be meatless. Bookstores are full of vegetarian and vegan cookbooks (like the No Meat Athlete Cookbook). If you're not ready to go all the way, get a pescetarian or flexitarian cookbook.
Your first action:
Get comfortable with a handful of meat-free recipes you can whip up without much thought. If they're overly complicated, you might fall back on old habits.
Here are a number of options to get you started:
6. Get out of your box.
A lot of people think of going vegetarian or vegan as giving up certain foods that they love. What they don't always think about is how many new foods they'll add.
Without meat as a default option, cooking becomes a (healthy) challenge. So does eating out. You're forced to explore cuisines of other cultures that have eaten little meat for hundreds of years. Indian, Thai, and Chinese menus generally offer many plant-based options, and cooking that food at home becomes an adventure.
Or hit your local farmers market, and learn to love buying fresh, local produce every week. This alone can add inspiration to previously lifeless cooking.
Your first action:
Next time you're in the produce aisle, choose a vegetable you've never cooked with before. Even if you have no idea what to do with it at the moment, take it home and do some research.
It can be a fun challenge to cook a meal with new ingredients, and just might introduce you to something completely new.
7. Track your progress and celebrate.
It's fun to look back and see how far you've come.
For me, the most measurable change was in my running — I got faster and faster every week and could run greater distances than ever before.
Your first action:
Don't forget to celebrate. Reward yourself for 10 days, 30 days, and other meatless milestones. When you give yourself a pat on the back (or a bottle of wine), you send your brain a positive signal that reinforces your healthy habits.
Good luck! And if you need some extra help, check out our 80/20 Plants program with coaches, a community, and a ton of resources for going plant-based.
This post is part of a series on how to start eating a plant-based diet, for new veganss or endurance athletes looking to take their performance to the next level.