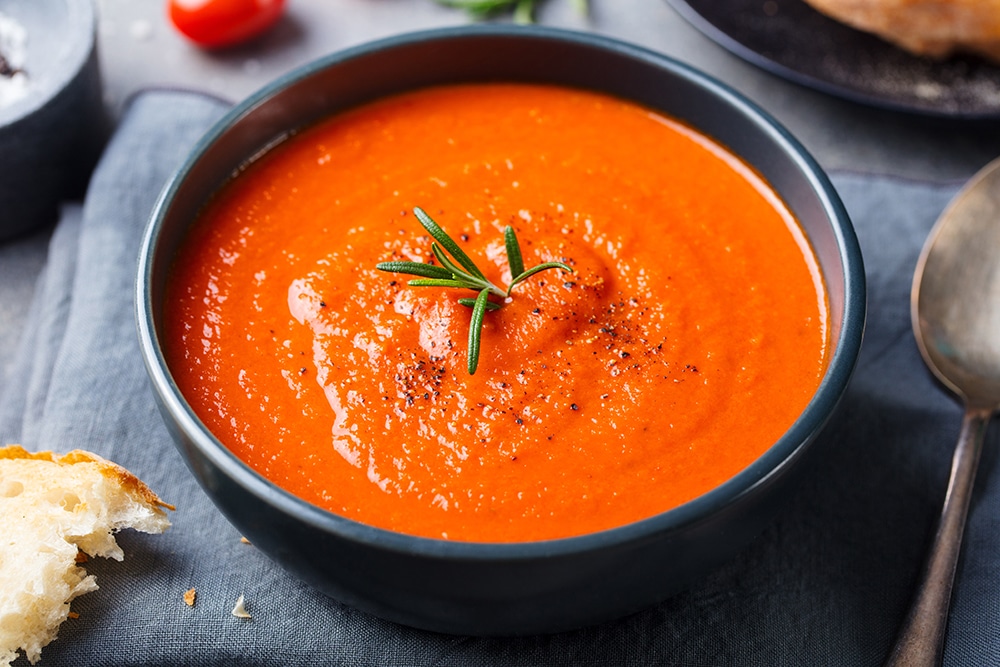 12 Cheap, Healthy Meals that Taste Way Better Than They Should
It's frustrating to think about how much cheaper it is to eat junk food than it is to eat healthily, but don't lower your standards for how you eat just yet.
Earlier this week I published a post about the best value health foods you can buy, a ranking of the nutrient-dense foods that give you the most nutritional bang for your buck.
Continuing on that theme, today we're talking about cheap, healthy meals.
For those times when I'm in a hurry, I keep a list of meals that are fast and healthy, so that I can run into a store on the way home, grab something, and have a meal on the table in just a few minutes.
But when I was looking at that list recently, I noticed that most of these meals were also cheap. Cheap, healthy, and quick … not a bad list of qualities for a meal.
The twelve meals in this post aren't exactly that list — a few of them take too long to be on my "in a pinch" list. But one thing they all are is cheap, coming in at just a few dollars per serving.
So here goes. My favorite cheap, healthy meals … and I hope you'll use this list to start compiling your own, so that you're never again tempted to go to the dark side just to save a few bucks.
1. Hearty Chickpea Pasta Soup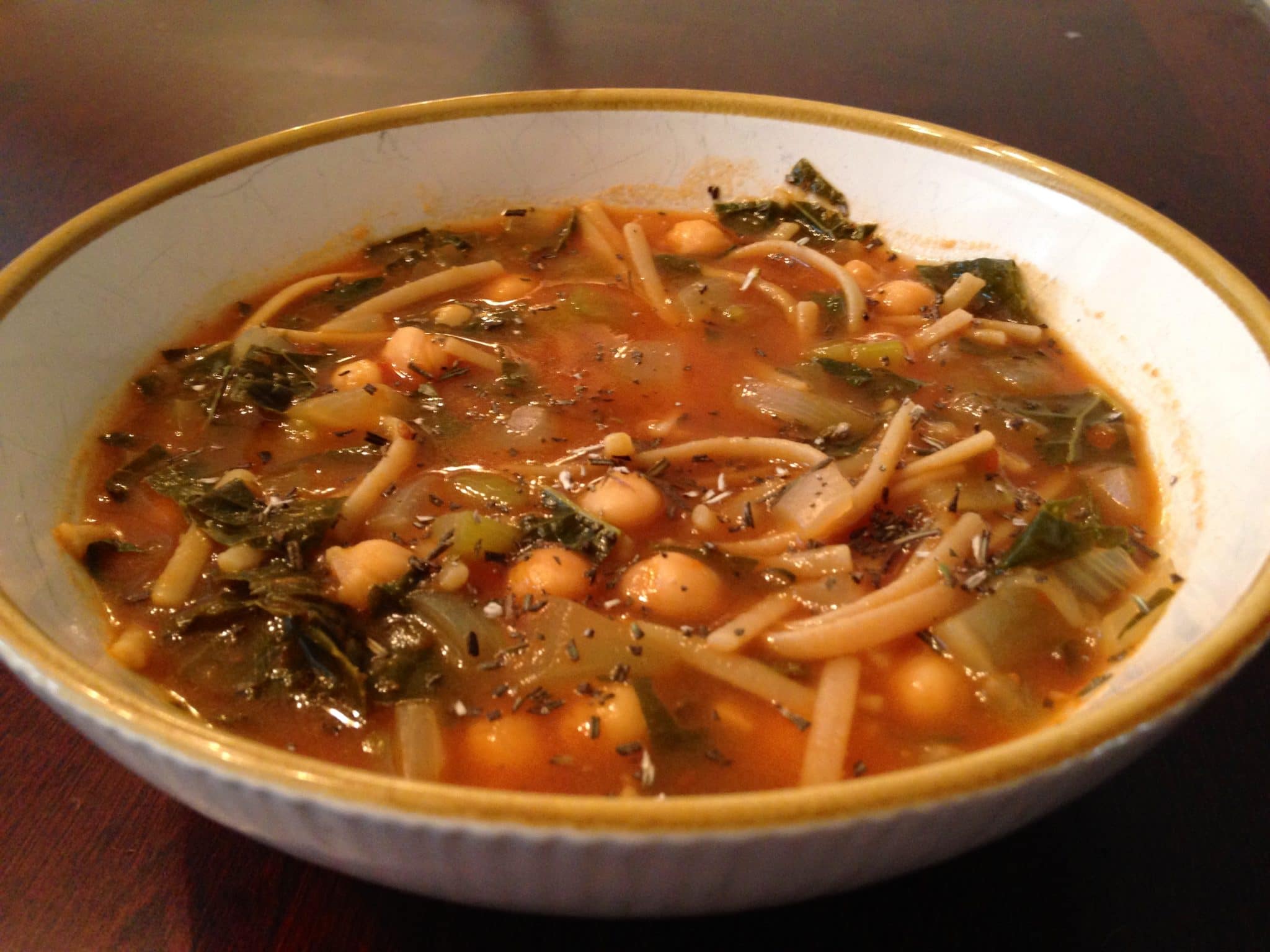 Of the 50+ recipes in No Meat Athlete, this is the one I see people raving about the most on social media. With pasta, chickpeas, and greens, it's filling and stands on its own as a meal. It's also a favorite of my kids!
2. Hawaiian BBQ Tacos
(Image from firefighterengineering.com)
This delicious oil-free recipe from Rip Esselstyn's My Beef with Meat calls for a bottle of barbecue sauce, which you can get store-bought (Amy's makes a healthy version) or make on your own. The latter is cheaper, but will take more time. Substitute lentils or black beans for the tempeh if you want to make it even cheaper.
3. Scott Jurek's Long Run Pizza
Ultrarunner Scott Jurek, who just set a new Appalachian Trail supported thru-hike record (averaging 50 miles a day for more than 46 days), shared this recipe in his book, Eat & Run. Aside from being kid-friendly, this pizza — which uses a tofu mixture for the cheese — is quick, and the healthiest recipe I know for pizza that still sort of seems like real pizza.
4. Creamy Tomato Soup with Roasted Chickpeas
From Angela Liddon's bestselling Oh She Glows Cookbook, this crowd-pleaser pleases the host, too, because it costs just a couple dollars per serving. Bonus: the roasted chickpeas make your house smell amazing.
5. Baked Potatoes with Black Beans and Salsa
This simple "recipe" is one we picked up from Chef AJ's Ultimate Weight Loss program that my wife had so much success with.
To make it: bake or microwave a few Yukon Gold potatoes, then top with black beans and salsa. Dress with lime juice, jalapeno slices, hot sauce, and cilantro, and you've got one of the cheapest meals you can eat with next to no active cooking time.
6. Bengali Red Lentils
Here's another one that saves both money and time — a real double-threat guy! The classic combination of lentils and rice makes for a filling and hearty dish, and you can stir in some baby spinach to add some green to the meal.
7. Romaine Salad with Beans and Tahini Dressing
The "giant salad with beans and oil-free dressing" has become a staple of my diet since we stopped eating oil. It's not always cheap, but if you buy your lettuce in whole-head form and chop it yourself, you can make a clean, green, and filling lunch for three or four bucks.
I use a whole head of lettuce and half a can of beans for single salad. To fancy it up, add some carrots, cabbage, and cauliflower, three of the best-value veggies out there in terms of nutrition for your buck.
To make my favorite oil-free dressing these days: blend together a half-cup of tahini, a quarter-cup of lemon juice, 2 tablespoons apple cider vinegar, and 2 tablespoons tamari or soy sauce. Then thin with water (you'll likely need a half cup or more) and add a dash of hot sauce to taste.
8. Pasta with Potatoes (by Mark Bittman)
Pasta and potatoes? Sounds overly starch-a-riffic, but it's actually a traditional combination in lots of Italian dishes (so is the combo of beans and pasta), and a great way to carbo-load. This one from Mark Bittman is one of my favorites, especially if you mash a few chickpeas into the sauce. (Omit the optional pancetta, of course.)
If you're up for spending a little more, pasta, potatoes, and green beans with pesto is another classic pairing of these two starch buddies. Skip the cheese to make it vegan, of course.
9. Pasta e Fagioli
(Image from choosingraw.com)
Pasta e fagioli — and just about any other pasta dish with beans, too — was a staple for me when I first went vegetarian and was (too) concerned about getting a rich vegetarian protein source in every meal. I'm more lax about it now, believing that if you just eat whole foods, you'll get the protein you need, even without trying.
But I still make pasta e fagioli now and then, because it's easy, cheap, healthy and delicious. What's not to love?
10. Split Pea Soup
Who knew that split peas were high in protein? Crazier still, who knew that the soup we all hated as kids is actually pretty tasty when you're an adult?
That is, if you make it right. This recipe from Terry Walters' Clean Start is a wonderful, springy-fresh version of split pea soup that packs a great protein punch. If don't have mirin on hand and don't want to buy a whole bottle, you can substitute for the mirin with any white wine you have around — just add a pinch of sugar to sweeten it.
11. Banana Smoothie
I've long been a fan of smoothies as a quick, healthy breakfast, but this is one I've only started drinking since the Woodstock Fruit Festival last year.
The purest banana smoothie recipe: five or six very ripe bananas and water (12 ounces or so), mixed in a blender. But I like to add a handful of walnuts, for flavor and a little fat.
We can argue about whether that many bananas at once is healthy for an everyday breakfast — I'm still on the fence — but it makes for a perfect high-energy, raw, whole food, pre-workout meal. And a very cheap one at that.
12. Hawaiian Beans and Rice
If there's a classic cheap vegan meal, beans and rice is it! This variation uses smoked paprika and pineapple for an interesting twist on the combination, and the addition of red cabbage and spinach help to make this cheap, healthy meal a staple in my house.
Got a favorite recipe that fits the "cheap, healthy, delicious" bill? Leave a link in the comments so we can all give it a try.