Like it or not, training for a marathon is a lifestyle adjustment.
It means changing your sleep routines, social habits, and time spent with family and friends.
And it also means adjusting the way you eat, especially as a vegan athlete.
There's a lot of talk in endurance circles about how to eat around your workouts and long runs for best results and recovery, but very little when it comes to the day-to-day training and how nutrition can impact the way you progress.
When you're pushing your body throughout months of a marathon training cycle, approaching diet with extra precision will help in nearly every way…
Obvious benefits like improved power when you run and speedier recovery, but also balanced energy throughout the day, better sleep, and weight management.
Nutrition is a critical element of an athlete's success, and should shift right along with your training block.
A Plant-Based Nutrition Plan that Progresses With Your Training
Through my own experiences as a competitive plant-based triathlete, I've developed an approach to training nutrition that progresses just like your training.
With every new phase of training — base, building, performance, and race week — your nutrition adjusts slightly right along with it.
Below I break down each phase, what they mean for your training, and how your nutrition should progress.
I then follow up the phases with 7 simple plant-based recipes, and provide specific examples for how to adapt a meal based on the phase.
While this is written for marathon training, the themes translate to just about any sort of endurance training including triathlon, ultramarathon, half marathon, or an epic adventure.
1. Base Phase
The base building phase of your marathon training often happens either before an official plan begins, or during those first weeks. While it might not seem as critical as later phases, the progress and structure you build during the base phase sets up the rest of your training for success.
The base phase is designed to increase your endurance base, and adapt your body, mind, and muscles to long hours of movement.

Base Phase Training in Practice
Your base phase will consist of mostly low intensity, low heart rate, light, and slow training. The slower the better when it comes to base phase training.
Over the base phase period, your run mileage will increase while staying incredibly low impact with the overall goal to increase your aerobic capacity, increase your ability to sustain your power over a long block of training, and get your body used to long hard days.
Nutrition Goals for Base Phase
To get the most out of this critical part of your training block, you should prioritize nutrition almost as much as your running.
Your body is adapting to activity so your energy needs will increase more than you think!
The "low and slow" workouts that make up the base phase are known for burning fat more than glycogen stores. Thus, you might feel a little bit hungrier during this period of time. This is normal!
In fact, honoring your hunger cues during the base phase of training might be the most essential nutrition advice you'll get throughout the entirety of your program.
The goal here is to eat semi normally — balanced meals with leafy greens, starchy vegetables, legumes, starches, and healthy fats — but increase the quantity a bit from your normal needs by about 15-20%.
The most effective way to increase caloric intake without sacrificing your health and inflammation systems is the following:
Add fruit and nut butters to your pre-workout meal. If you don't eat before a workout, start adding something small whether it's a banana and almond butter, or a piece of toast with jam.
Add a post workout smoothie or other healthy snack you may not have had before.
Maintaining or gaining weight during this phase helps store calories for when your training is very high intensity in the performance phase. Supplement your workouts with small amounts of fuel to get you through them, but don't worry too much about calculated fueling protocol during this part.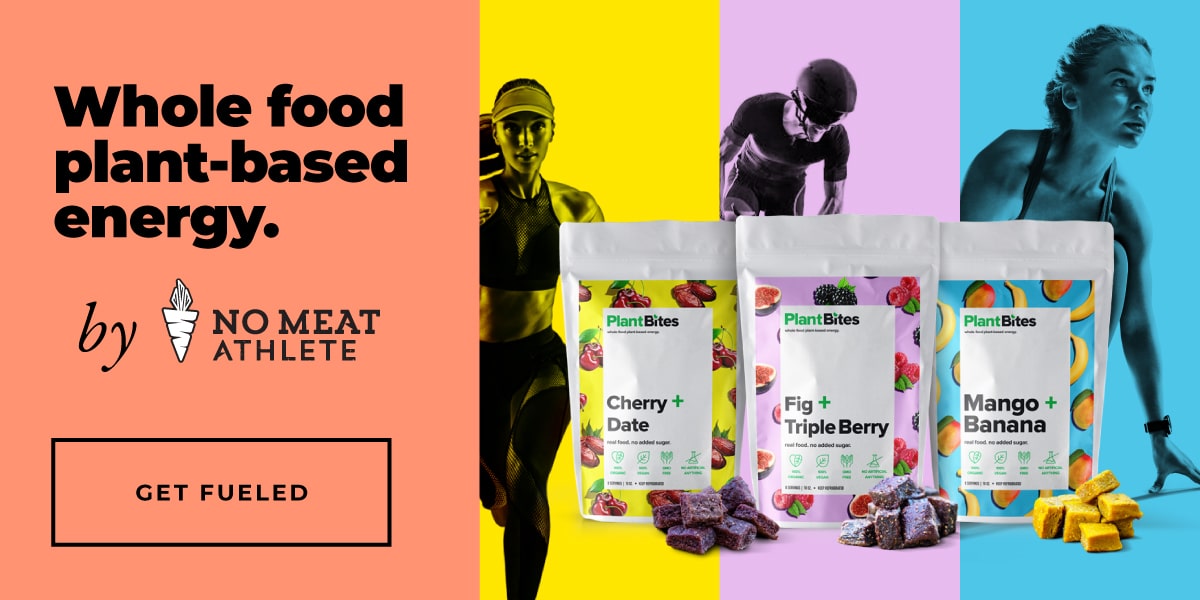 2. Build Phase
The build phase is what most people think of when they think about marathon training.
You've built a base endurance through phase one, so this is where you increase your strength and speed.
Build Phase Training in Practice
Contrary to the base phase, when building you'll typically find:
Gym sessions with low reps high weight and high intensity workouts with intervals.
Continued endurance workouts, but rapidly increasing in distance and time.
Interval runs like track workouts and time trials.
Both mileage and intensity are ramped up in this phase, and your nutrition should follow.
Nutrition Goals for Build Phase
While not as critical as during later phases, this is where I recommend you start paying a little more attention to the ratios on your plate instead of just focusing on getting more calories.
You'll be training harder, which wears down on your muscles. Calorie dense foods should make up slightly more of your plate to address muscle fatigue and recovery.
Protein dominant food groups are typically plentiful in essential amino acids and assist in replenishing and replacing the deterioration of muscle fibers (even potatoes are high in amino acids!).
Carbohydrates will help build muscle glycogen and carbohydrate stores for difficult sessions, and adding fat will help with nutrient absorption. Remember, the goal isn't to dramatically change your diet. Small shifts and consistency make all the difference.
3. Performance Phase
The performance, or "peak," phase takes place about three weeks before your race, and consists of a mix of high-intensity and long workouts, paired with adequate rest to prime your body for race ready-ness.
Aside from the race itself, this is where everything really comes together.
Performance Phase Training in Practice
What the performance phase actually looks like depends on your plan itself, but you can expect a shortened version of the race every 3-4 days, paired with low intensity actively and rest in between.
For the marathon, these will be race pace runs at the 8-15 mile distance.
Nutrition Goals for Performance Phase
The number one goal in this phase should be testing:
Pre- and mid-workout fueling strategies you plan to implement on race day.
Day-before meals you hope to eat in the days leading up to the race.
Pro tip: For a whole-food, plant-based mid-workout fuel, check out Plant Bites.
With such high intensity training, your energy needs are likely to feel higher than they actually are. The mix of intensity, previous long months of training, and rest will send different signals to the body and metabolism.
Stick with the well-balanced meals you've grown accustomed to in the build phase, with the main focus on those meals around your workout by increasing protein intake, with fat the same as in the build phase.
4. Taper Phase During the Week of Race
Congratulations! You've made it to the taper phase. Some runners like to joke this is the hardest phase because you're physically primed to push hard, but your plan says to rest.
Taper Phase in Practice
Workout sessions will decrease dramatically, and lower intensity sessions will increase, while doing short and fast race simulation to keep your muscles and mind ready for what is to come.
Rest is the main focus of this phase. Don't cut it out!
Nutrition Goals for Race Week
Now is not the time for dramatic nutrition shifts, but I do recommend small macronutrient ratio changes.
Shift your plate to be filled with more starches and complex carbohydrates while slightly decreasing your fiber intake. The number one mistake athletes make here is intentionally shifting their plate so much that their digestive system is in ruins by the time they show up at the start line.
The goal here is to build muscle glycogen in the form of carbohydrates… not by one massive carbo-loading dinner — like many have traditionally called for — but through a gradual shift over the course of several days.
Practice. Race. Nutrition.
Putting it Together: 7 Vegan Recipes Adapted for Each Phase
Now that you have the broader information above, what does it actually look like in practice?
Here are seven simple everyday recipes, with notes for how to adjust them in each phase.
Light Pre or Post-Workout Recipes
Toast & Jam
1 piece of whole-grain toast
1 tbsp jam
Adjustments:
Build Phase: Add 1 ¼ cup chopped nuts, seeds, or shredded coconut
Performance Phase: Add a glass of cold coconut water
Banana and Nut Butter
1 banana
2 tbsp nut butter
Adjustments:
Build Phase: Add rice cakes
Performance Phase: Mix in 1 tbsp chia seeds to the nut butter
Taper Phase: Skip the rice cakes and use whole-grain toast (2 pieces to keep calories), decrease your full banana to half or skip to reduce fiber
Avocado Toast with sprouts
½ avocado
one piece of whole-grain toast
2 tbsp sprouts – Skip the sprouts for taper!
salt, pepper and paprika
Adjustments
Base Phase: Add hummus
Performance Phase: Add other half of avocado
Overnight oats with fruit
⅓ cup quick oats
¼ cup almond milk
½ tsp vanilla extract
1 crack sea salt
1 tsp chia seeds
1 tsp cinnamon
Let soak overnight and top with ¼ cup of your favorite berries
Adjustments
Build Phase: Add protein powder and/or chopped nuts
Performance Phase: Add ¼ cup chopped nuts / 1-2 tbsp nut/seed butter
Taper Phase: Skip berries
Smoothies! Skip the smoothies during taper!
1 banana + another ½ banana
1 handful leafy greens
1 cup berries/other fruit
1 cup almond milk or water
Adjustments
Build Phase: Add ½ serving of Protein powder/nut butter
Performance Phase: Add another ½ serving of Protein powder (a full serving)
Taper Phase: Skip smoothies
Bigger Meals and Dinners
Oat Bowls
½ cup steel cut oats
1 banana sliced
4 dates + 2 more dates
1 tsp cinnamon
1.5 cups water
Top with berries
Boil water with sliced bananas and dates until bananas are swollen. Add oats and cook down until water is absorbed ~30 minutes. Add cinnamon and other flavor at the end! Serve with berries.
Adjustments
Base Phase: Once done but still hot, add protein powder and top with chopped nuts
Performance Phase: Add additional half banana plus a few extra dates
Taper Phase: Decrease down to just half a banana and skip berries
Taco Salad
2 cups chopped romaine
¼ cup roasted corn (roast corn with paprika in oven)
¼ cup homemade pico de gallo or favorite salsa, or just chopped tomatoes
1/2 cup black beans (legume) + another ¼ cup of beans
Chopped red pepper
⅓ cup wild rice or quinoa – chilled (grain)
Adjustments
Build Phase: Add 1/4 cup roasted sweet potato and avocado
Performance Phase: Add roasted tempeh, tofu or other vegan protein option
Taper Phase: Replace romaine with 1 cup cooked grain
Marathon Training Requires More than Just Running
Just like with the running itself, there's no perfect formula for training nutrition.
Thankfully, it doesn't have to be complicated:
Listen to your body, gradually adapt in each phase, and test everything.
If you can do those three things, you're well on your way to your best training cycle ever.