Fuel Your Run With Pinole and Chia: 15 Pinole & Chia Recipes For the Modern Athlete
Written by Matt Frazier
Big news today!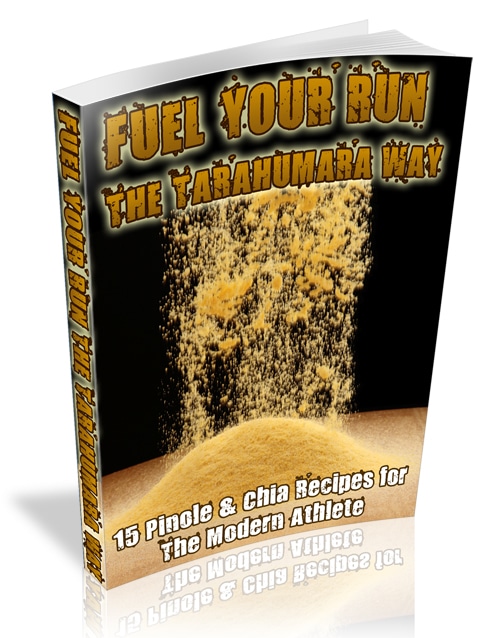 After several months of doing research, coming up with recipes, and testing them out, I'm so proud to announce the release of the first downloadable cookbook from No Meat Athlete—Fuel Your Run with Pinole and Chia .
The cookbook is a collection of recipes based on two ingredients—pinole and chia. They're the foods eaten by the Tarahumara tribe of superathlete endurance runners, as popularized in the bestselling book Born to Run. (If you haven't read that one yet, stop what you're doing and drive to the bookstore right now to buy it. It's fantastic.)
After I read Born to Run, I tried to make pinole and iskiate (another name for chia fresca). The pinole the Tarahumara eat is either a paste or a drink, and neither one is practical for carrying on a run. I felt pretty hardcore fueling up this way, but the taste and hassle were just too much.
Then—BAM—I got the idea to enlist the help of my professional-vegan-baker sister, Christine, to create pinole and chia recipes fit for today's world. Recipes for stuff you could bring on a run with you.
So that's what we did. Energy bars, pancakes, muffins, smoothies, and more, all with pinole or chia, or both. Portable, practical, easy, and all with vegan options. And—to my amazement—delicious. (I guess that's a perk of having a sister who makes things like vegan black-bean brownies, chocolate avocado mousse, and cauliflower cookies taste good, just for fun.)
Click here to see more details about Fuel Your Run with Pinole and Chia. I know you'll love it.
Update: 10% of sales from Fuel Your Run with Pinole and Chia go directly to the Tarahumara Children's Hospital Fund!